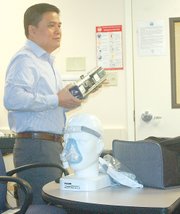 Think your spouse may be hitting you in his sleep? If so, you probably should consider sleeping on the living room sofa and in the morning make your bed partner an appointment for a sleep disorder test, suggests Dr. Brian Santiago, Sunnyside's expert on sleep health.
Dr. Santiago, the guest speaker at the Sunnyside Daybreak Rotary club yesterday morning, Wednesday, deals strictly with sleep health and sleep disorders. He said lashing out during sleep is not uncommon for a person experiencing sleep disorders.
Some individuals react violently in their sleep, "…but not while in the deepest stage of sleep known as REM sleep," he cautioned. "When in REM sleep, your body is perfectly still," Santiago said.
Santiago outlined the many forms of sleep stages and the various types of disorders associated with sleep that cause millions of people to miss work, sleep on the job and even die in automobile accidents each day.
Not getting enough sleep is dangerous, he said, but sleeping too much can be equally dangerous, leading to obesity, strokes and even death. Not getting enough restful sleep can increase a person's chance of suffering a heart attack by 50 percent over a lifetime, he said.
Santiago said a person's body needs between six to eight hours of sleep each night. Nine hours would be better, but in today's society, deep sleep can be hard to achieve, especially with all the time Americans devote to such things as their cell phones, Facebook and watching television, he said
He said not getting enough rest can also lead to obesity. "Sleeping less than six hours a night is like adding a cheeseburger to your diet each day," Santiago said.
He suggested a person begin preparing for a restful night's sleep 45 minutes before going to bed.
"Shut off the television, turn off the cell phone and let your body know it is time to go to sleep," Santiago said.