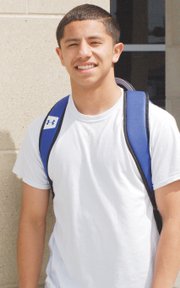 Anthony Chavez's idea to raise money for the national Wounded Warrior project has earned the Sunnyside High School junior county-wide honors.
For his efforts to set up a charity basketball game between high school students and members of the military last October, Chavez has been awarded the Yakima County Youth Award for civic/community service.
The award came as a surprise to Chavez, who is already making plans to sponsor the event again during his senior year.
"I want to see it become a little tradition here at Sunnyside High School," he said.
He was presented the community service honor during ceremonies held at the Capitol Theatre April 7, in Yakima, according to his leadership class instructor Tina Peabody.
"I believe the judges were impressed with his leadership and because his was an event that involved the community," Peabody said.
Chavez's Wounded Warriors Project brought students and area military personnel together to raise money for a common cause.
Chavez, who has said he hopes to join the military following high school graduation, asked the area service recruiters to play a game of basketball with the students. He then sold tickets to the event and held raffles during the game to raise additional funds.
Chavez said last year's event raised more than $2,000. "I'd like to see us double that amount," he added.
In addition to raising money for the national veterans' project, he helped to raise local awareness of the Wounded Warriors project to the community.
Chavez said he learned about the Wounded Warrior project from a school janitor and he then volunteered to promote the program.
Peabody who nominated Chavez for the county youth award said she was impressed with the young organizer's leadership qualities.
"It was something new and it was highly successful." she said.
Meanwhile, Chavez is not resting on his laurels. He and other members of the high school leadership class are putting together a track meet for children, ages 3 to 12, to be held Saturday, May 10, at the Sunnyside High School track.
"We will have running, jumping and throwing events," he explained. And in true organizer manner, he put it out there that food vendors are needed.
"It would be nice to have food for the kids," he said.