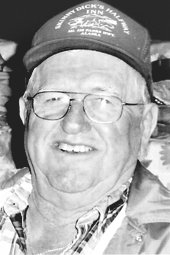 Ralph "Bugs" Stanton, 88, of Sunnyside passed away on Friday, April 18, 2014.
He was born Nov. 28, 1925 in Minneapolis, Minn. to Ralph and Myrtle (Lilienthel) Stanton. He spent his early childhood years and was schooled in Minnesota. At the age of 16 he moved with his family to Washington state.
On July 6, 1946 he married Delores Bankers. They had five children: Jim, Darlene, John, Shirley and Susan.
He was proud to be in partnership with his dad and brothers in Stanton and Sons Land Leveling business.
In 1968 he started work for the Washington State Highway Department. He worked there for 18 years and retired in 1986.
Dad and mom enjoyed traveling in their motorhome. They traveled to every state in the U.S., until mom passed away in August of 2001.
Dad loved to go camping, fishing and hunting.
He is survived by four of his children, Darlene Turner of Richland, John (Debbie) Stanton of Sunnyside, Shirley (Steve) Stredwick of Pasco and Susan (Don) Clift of Grandview; two brothers, Paul and Bob (Patty) Stanton of Granger; 10 grandchildren; 26 great-grandchildren; six great-great-grandchildren, and many nieces and nephews. He enjoyed spending quality time with his special companion Karen Fritts.
He was preceded in death by his father and mother; his wife, Delores "Dee"; and one son, James Stanton.
Viewing and visitation will be held Friday, April 25, 2014, from 2 to 8 p.m. at Smith Funeral Home in Sunnyside. A funeral service will be held Saturday, April 26, 2014, at 1 p.m. at Smith Funeral Home Chapel in Sunnyside, with burial to follow at Lower Valley Memorial Gardens in Sunnyside.
Memorials can be made in Ralph's name to Sunnyside Volunteer Fire Department. Those wishing to sign Ralph's online memorial book may do so at www.funeralhomesmith.com.
Smith Funeral Homes Ltd. & Crematory in charge of arrangements.
More like this story