WORDS FROM WASHINGTON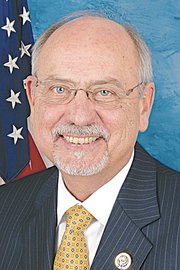 As Central Washington's representative to the United States Congress, one of my highest priorities is providing service and assistance to all the citizens of our region. 
I believe working for you in Congress extends beyond voting on legislation, and includes helping constituents navigate the federal government bureaucracy.
Below are a number of ways I can offer my help and the expertise of my staff:
Federal government help
If you, a family member, or someone you know is experiencing a problem with a federal agency, my office may be able to help.
Each week, I assist residents from Central Washing-ton who need help with their Social Security, veterans' benefits, obtaining a visa or passport, resolving issues with the Internal Revenue Service and a variety of other matters involving federal agencies. 
A member of my staff can initiate a Congressional inquiry into a situation as soon as a letter describing the situation and an authorization form that allows me to act on your behalf are received. Anyone requiring this type of assistance should contact my Tri-Cities office at (509) 543-9396 or my Yakima office at (509) 452-3243.
Veterans and active duty military
Keeping our nation's commitment to those who served and fought to keep America safe is a national priority. My staff can help provide support to veterans, as well as active members of our military, who need assistance with their benefits or health care services. For assistance with obtaining military medals or veteran's claims, please contact my Tri-Cities office.
Military academy nominations
Members of Congress have the privilege of recommending a select group of young men and women to be considered for admission to the United States service academies, including the Army, Navy, Air Force, and Merchant Marine. The appointments are limited and highly competitive. Applicants must be residents of the 4th Congressional District in Central Washington and be between the ages of 17 and 22. For more information, please contact my Tri-Cities office.
Capitol flags
It is possible for you to acquire a flag that has flown over the United States Capitol, and even to request a flag be flown for a special occasion. If you are interested in purchasing a flag, please visit my website or contact my office for an order form.
Visiting our nation's capital
If you are planning a visit to Washington, D.C., I encourage you to contact my office so that my staff can provide you with details on tours of the U.S. Capitol, the White House, museums, monuments and other sites of interest that are open to the public.
These are just a few examples of how I may be able to help you. If there is another matter involving the federal government with which you may need assistance, please do not hesitate to contact my office or visit my website at www.hastings.house.gov.
It is my honor to represent you in Congress.