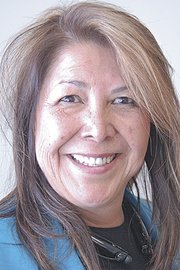 Age: No answer.
Spouse: William Combs.
Children: Saundra, William.
Occupation and place of work: C&H Trucking Academy, Inc., SASA, Unlock Your Dreams.
My favorite part of the Yakima Valley is... the people.
When I was a child, I wanted to grow up to be... in a field were I could help people.
First job I ever had was... picking tomatoes.
If a movie was made of my life, the actor/actress I'd want to play me is... Julia Roberts.
The best gift I ever received was... a true smile.
The best piece of advice I ever received was... follow your dreams.
My favorite dessert is... chocolate dipped strawberries.
One of my most memorable moments, besides getting married or having children was... night scuba diving.
If I could witness any event past, present, or future, I would want to see... no answer.
I'd love to learn how to... get a better golf game.
The furthest I have been away from home is when I went to... Costa Rica.
My favorite leisure activity or hobby is... volunteer work.
If I didn't have to worry about money, I'd spend my time... doing volunteer work around the world.
The one word that best describes me is... passionate.
If I could change one thing about myself it would be... slow down.