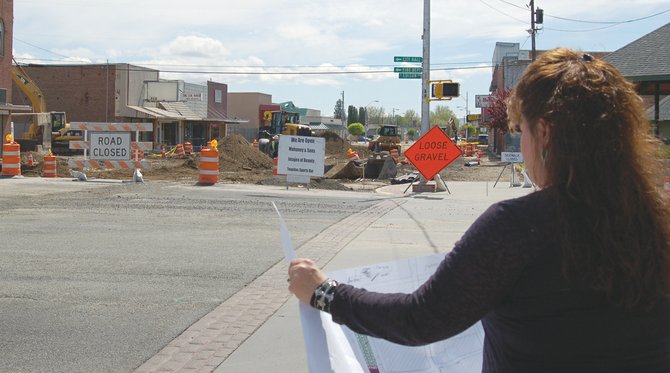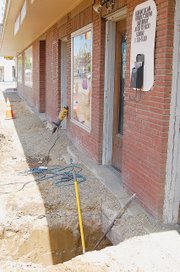 Maybe this year, April was not a good time to consider opening a new store in downtown Sunnyside.
The entire 500 block of South Sixth Street is all torn up as part of Sunnyside's revitalization project now underway, making it difficult for motorists to visit businesses downtown and nearly impossible for foot traffic to navigate.
But new entrepreneur Maggie Alvarez is committed to opening Frio, a new frozen yogurt shop to be located on the west side of the 500 block of South Sixth Street.
"I'm hoping to be open by Cinco de Mayo," she said this past Monday.
Meanwhile, she worries how customers are going to visit her new shop. "I guess they will have to come through the alley and through the back door," Alvarez said.
Next door, business owner Blanca Rios of Images of Beauty Hair Salon said the construction has hit her business hard.
"Although we have access through the alley, we've lost all of our walk-in business," she said.
Further down the block Guy Mahoney of Mahoney and Sons feels very lucky that he has an alley entrance and parking adjacent to his used furniture and repair shop. His back door opens on to a parking lot off of South Fifth Street.
"I tell my customers to look for the Family Bargain sign and pull in there to park," he said.
"I know the street will look good when it is done, he said. "After all, I had my store in Grandview when it underwent its street project a few years ago."
Still, he admits the construction has slowed down his sales and his walk-in customers have drastically fallen off.
Across the street, Super Tacos has been closed since the construction began, said Mahoney. Fortunately the Navarro family who operated Super Taco cafe and the Navarro Family Center rental hall do have back access to their businesses.
But not every business on the block is so fortunate.
Salinas Hair Salon has been open every day, but it has been a hardship for businesswoman Vivian Perez.
The business has been a "wreck", said Perez. But she added, the contractors let her know when they plan to turn off the water and "…how long my doorway is going to be torn up," Perez added. So far, she said she has only been closed when the water is off.
Her shop, while not having a back entrance, is located close to the alley, giving her customers limited access to her services. But the street is open after 3:30 p.m., she added.
"But still, most people park off street and use the alley to get to me," Perez said.
Nonetheless, Perez admits her income since the beginning of the construction in late March has been affected dramatically.
"Its way down," she confirmed.
The neighboring dress shop, Novedades Gaby, is currently closed, while they wait for the sidewalk area in front of their business to be useable.
Among the businesses contacted this week, Patty Graham of the Daily Buzz coffee stand, located just outside of the construction zone, said her business has slowed, but not as much as she once feared.
"People know we're open and stop by," she said. "But some don't go past the signs."
The signs, which note the street closure and sidewalk closure, are situated at the corner of South Sixth and Franklin Avenue and at the East Edison and South Sixth Street intersections.
The signage should be located further back, according to Mahoney.
Safeway, the largest single business located in downtown Sunnyside, reports little if any impact from the street work.
"We know it (the street closure) has been inconvenient for our customers, but it doesn't appear to be impacting our sales," said store supervisor Esmeralda Estrada.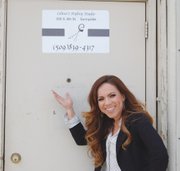 Celina Ruiz of Celina's Styling can't wait for the major portion of the construction to be finished.
The 500 block infrastructure construction is projected to be completed before the end of May and the street will be repaved with new sidewalks before the end of June.
"Everyone will be switched over to the new water system, then they will finish the storm drains," said Public Works Superintendent Shane Fisher. "That will be done by the end of this week."
Fisher said he expects work to be started on curbs and gutters in the block in about two and half weeks.
"Then they'll put in the sidewalks and pavers," he said. "And the whole thing will hopefully be done by mid-June."
Fisher cautioned that timelines could change slightly due to the nature of construction. But the current plan is to completely finish the construction in the 500 block, including paving the roads and installing sidewalks, before moving to the next phase in the 400 block of Sixth Street, which should please the local businesses.
"It's hard to keep the shop clean and customer parking has been a real problem, Ruiz said. "We've been telling our customers to park near the alley opposite of the US Bank parking lot," Ruiz said.
Perez said she is nervous for businesses when the construction process moves to the 400 block of South Sixth Street.
"There are a lot more businesses on that block and some of the hair and nail salons will have real problems with having their water being shut off for any length of time," she said. "I know it's been rough for me."
Plus, she added, the months of May, June, July and August are some of the busiest of the year for places like Fashion Corner and the salons.
Meanwhile, plans for the state's biggest and longest running Cinco de Mayo celebration continue on schedule, according to Pam Turner, Sunnyside Chamber of Commerce Executive Director.
Turner, who said she hasn't heard any complaints from the businesses being impacted by the street work, said the street contractors have promised her that the 500 block will be ready for the vendors' street fair by Friday, May 2.
It won't be paved, of course, she noted "…but compacted and graveled," she promised.
The street fair is scheduled to open at noon on May 2 and run through Sunday, May 4, with a parade, and entertainment planned at Centennial Square throughout the weekend.
As to where all of the vendors and Cinco de Mayo crowds will park is still something of a mystery.
The Cinco de Mayo crowds will have to find off-street parking, which is currently at a premium on a normal occasions. A major portion of downtown streets will be closed to through traffic due to the street fair.
At least one of the free parking lots off South Seventh Street is already filled with the fire station construction equipment as are several other empty downtown lots. The bank parking lots at downtown banks is restricted to banking customers on weekend days.
"We are proceeding as usual, and we'll make this year's event for the vendors and the street fair goers as normal as we can make it," Turner said.
Meanwhile, 500 block business owners of the downtown core are nervously looking out their windows and hoping the construction stays on schedule. "We really need our walk-in business," said Ruiz.