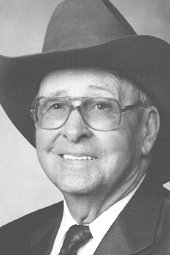 Verland Elmer "Bill" Bishop, 94, of Granger passed away on Saturday, April 19, 2014, at Sunnyside Hospital.
Bill was born in Clark, S.D. in 1920 and lived the majority of his life in the Yakima Valley and the Columbia Basin. He was the third born of five children in his family.
Bill is a WWII veteran who served as a crew chief and staff sergeant for a B-24 bomber squadron stationed in Italy during the war. Upon returning home, he met Lola and married shortly thereafter. Upon leaving the service he worked on various farms and ranches. He worked on the Pingrey Ranch as their foreman for several years.
He loved horses and was part of a horse club that performed at various fairs and other events. Their horse and rider drill team performed square-dance routines on horseback.
For years he worked as a farm equipment mechanic for International Harvester and then a paving equipment operator, paving many roads and highways in Washington, Idaho and Montana.
He could fix almost anything and was an all-around handyman. If something needed to be done, Bill could do it.

Bill had many a brush with death during his life. From his service in Italy on a bombardier crew to a close call at the Moses Lake U&I Sugar Refinery explosion in 1963, to a truck collision with an elk in Montana rolling his truck, somehow he made it through them all. He said he had angels protecting him.
He is survived by his wife of 65 years, Lola Jean Roberts; and their six children, Warren McCullough, Dennis Bishop, Larry Bishop, Colleen Waymire, Brenda Hodson and Randy Bishop, all of whom are still living; and his youngest sister, Pauline Brownlee of Selah.
He had a wonderful life filled with his wife; six children; 18 grandchildren; and 26 great-grandchildren, all of whom loved him and will miss him. You always knew it was Bill coming when you saw his signature cowboy hat and boots.

Visitation will be held Friday, April 25, 2014, from 4 to 7 p.m. at Valley Hills Funeral Home in Sunnyside, 531 S. 16th St. A private graveside service will be held Saturday, April 26, 2014. A memorial service will be held to celebrate his life at 2 p.m. at Valley Hills Sunnyside Chapel.
Condolences can be left for the family at www.valleyhillsfh.com.
Valley Hills Funeral Home in Sunnyside is in care of arrangements.