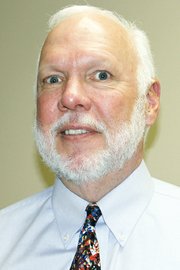 YAKIMA – Ric Pilgrim, a veteran teacher and a longtime administrative leader with the Wapato School District, will be joining Educational Service District 105 as the regional agency's new assistant superintendent for educational services.
He will start his new position at ESD 105 on Tuesday, July 1.
Pilgrim will coordinate and develop educational initiatives that assist in staff development and student education programs for the agency's service region of south central Washington.
The primary service area of ESD includes 25 public school districts and 23 state-approved private and tribal schools throughout all of Yakima and Kittitas counties, plus portions of Grant and Klickitat counties.
Pilgrim joined Wapato's schools in 1986 as the school district's K-12 music coordinator, generating a series of awards for student instrumental music programs during his 13-year classroom tenure.
He moved into school district administration in 1999, serving as the assistant principal at the Satus and Camas elementary schools, then led Satus Elementary School as its principal from 2001 to 2009.
He also worked as a music teacher at the Granger School District from 1982 to 1986, and taught instrumental and choral music as a Peace Corps volunteer in Kenya from 1978 to 1980.
"Ric's knowledge, skills and leadership experience, combined with his communication abilities and approachable attitude, make this new opportunity for him a perfect match for the agency," said ESD 105 Superintendent Steve Myers.
Pilgrim said there are several large initiatives in education right now, such as the new Teacher-Principal Evaluation Project and Common Core State Standards, "...and I believe it is more important than ever that we work together with school districts in making these tasks manageable and meaningful," said Pilgrim.
"Professional development is the key to make changes in public education beneficial for all involved.
"Public education is what creates the citizenry of our country," he continued. "It's extremely important that we are aware and maximize the potentials that exist for all of our students. The job we do educating our students today will mirror the citizens they become tomorrow."
Pilgrim will be succeeding Ian Grabenhorst as the assistant superintendent at ESD 105. Grabenhorst joined ESD 105 as the assistant superintendent in 2004 and will be retiring at the end of June.