Over the Shoulder
A look back in time from the files of the Sunnyside Daily Sun News and Sunnyside Sun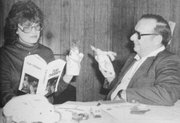 110 YEARS AGO…(1904)
The Sunnyside Public Library opened in the first story of the White building. The librarian was Mrs. Rodman and the library contained a small but decent selection of books.
P.J. Litchty suffered a severely bruised right foot after he fell from his wagon while attempting to adjust a bale of hay that was part of a load he was hauling to Mabton from Sunnyside.
100 YEARS AGO…(1914)
L.L. Higgins Jr. of Sunnyside was charged with first degree assault for hitting attorney S.E. Chaffee on the head with a broom handle while Chaffee was taking pictures of Higgins' asparagus fields.
The Grandview parent-teacher association sponsored a speech on sex hygiene by Dr. Hughes, who urged parents to instruct their children on the subject of sex instead of allowing children to learn from "obscene playfellows".
90 YEARS AGO…(1924)
The Sunnyside City Council passed an ordinance making it illegal to break or disrupt a funeral procession in the city.
Sunnyside High School's undefeated baseball team beat Mabton 12-4 and Benton City 6-1.
80 YEARS AGO…(1934)
The Liberty Theatre in Sunnyside was closed for a couple of days for a remodel costing about $1,800. Manager Carl Jones said a new ceiling and wood floor would be installed.
About 30 Sunnyside Boy Scouts, led by F.D. Mack, Noble Johnson, Keith Bradbury, Hiroshi Furukawa and Junior Miller, had a weekend hike at Bear Springs and Box Springs.
70 YEARS AGO…(1944)
Sunnyside's Lincoln School students put on "The Adventures of Tom Sawyer" to a capacity crowd, raising more than $309. The lead was played by Douglas Drysdale, Frank Massey played Huckleberry Finn and Jo Ann Flagel played Becky Thatcher.
Robert Quiggle was selected as the new principal of Sunnyside High School. He replaced A.G. Giaudrone, who because the superintendent of Sunnyside Schools.
60 YEARS AGO…(1954)
The bridge over the Yakima River at Mabton was fully spanned again, although still far from complete. Drivers would have to wait another few weeks before car traffic could cross.
R.J. "Dick" Casey was elected the new president of the Sunnyside Junior Chamber of Commerce. Also serving as officers were David Van Eaton, Marvin Buck, Dick Horton and Les Talbot.
50 YEARS AGO…(1964)
Sunnyside's Pat Castello claimed that the concrete work on public buildings in Sunnyside, including the library, new fire station and remodel of city hall, were not up to par. The council listened to the architects, who said tests showed the work was fine.
Cherie Templin was named valedictorian of Mabton High School's 1964 graduating class and Steve Mizuta was named salutatorian.
40 YEARS AGO…(1974)
Mrs. Walter Orth of Outlook was honored for 15 years of being a den mother for Cub Scouts.
Kathy Granberg and Jessica Payton were co-recipients of a $500 scholarship from the Sunnyside Lions Club, and Granberg was also named the Outstanding DECA student for 1974.
30 YEARS AGO…(1984)
A Sunnyside police patrol car was damaged after Diego Mendoza was pulled over for a traffic stop and forgot to put his vehicle in park. It rolled into Officer Steve Evans' car and caused $500 damage. Mendoza's vehicle was not damaged.
A total of 46 walkers participated in "WalkAmerica" to support the March of Dimes. The walk, which occurred between Sunnyside and Grandview, was sponsored by the Sunnyside Kiwanis Club and raised $5,870 with Darrell Hochhalter getting $401 in pledges.
20 YEARS AGO…(1994)
The Sunnyside City Council was concerned about the time Sunnyside Police Chief Wallace Anderson was spending serving as acting police chief in Mabton while that city searched for a new chief. Anderson had been serving in Mabton since the previous October.
A project to fingerprint primary school children earned three Sunnyside High School FHA members, Angie Wachholtz, Staci Hazzard and Brezzi Bordwell, a trip to the national convention.
10 YEARS AGO…(2004)
The city of Grandview banned basketball playing in the streets after city workers noticed more hoops, both temporary and permanent, going up on sidewalks. Cus Arteaga, the city's public works superintendent, said street sweepers had been damaged by the poles.
Sunnyside Christian High School baseball player Lucas Kilian hit for the cycle against the Zillah Leopards JV squad in 14-2 win for the Knights. Kilian was also the starting pitcher in the game.