RELIGIOUS REFLECTIONS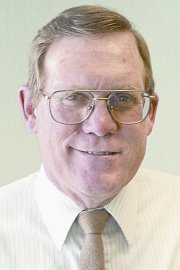 This time of year most Christians have had Good Friday and Easter on their minds.
But there is another holiday that is generally overlooked, one that was instituted by God Himself that takes place either in March or April of the year. The holiday (holyday) is called Passover.
Passover not only is a memorial of an actual event that took place anciently about 3,500 years ago, but is also symbolic and a memorial of another event that took place a little less than 2,000 years ago.
The first event was the Exodus of Israel from Egyptian bondage to the promised land of Palestine. It was their birthday. Exodus 12 tells us:
Now the Lord said to Moses and Aaron in the land of Egypt, "This month shall be the beginning of months for you; it is to be the first month of the year to you. Exodus 12:1-2
They were also to take a lamb without blemish, kill it, take its blood and spread it on the door posts and lintels of their homes and then eat the roasted lamb with bitter herbs and unleavened bread on the night of 14th day of the month. That night the angel of God came and killed all the first born in Egypt that were not protected by the blood of the lamb on the door posts and lintels of their homes. That was the final plague that caused the deliverance of Israel from Egypt.
Passover was also symbolic for the future "'Now this day will be a memorial to you, and you shall celebrate it as a feast to the Lord; throughout your generations you are to celebrate it as a permanent ordinance." Vs. 14
Not only did the memorial point to past deliverance, but it pointed to our future deliverance from the bondage of sin. Jesus actually died for our sins on the Passover. It is out of the Passover celebration that the Christian traditions of celebrating the Lord's Supper and the Mass evolved.
The various feasts of the nation of Israel all had a memorial and prophetic meaning, for they not only looked back at God's acts for his people, they looked forward for what God was going to do on a larger scale for God's people; even to the time when He would set up his visible kingdom yet to come.
So study the feasts, and then look forward and see what mighty things God has in store for us!
‑ Rev. Larry D. Mays is pastor of the Sunnyside Adventist Church.