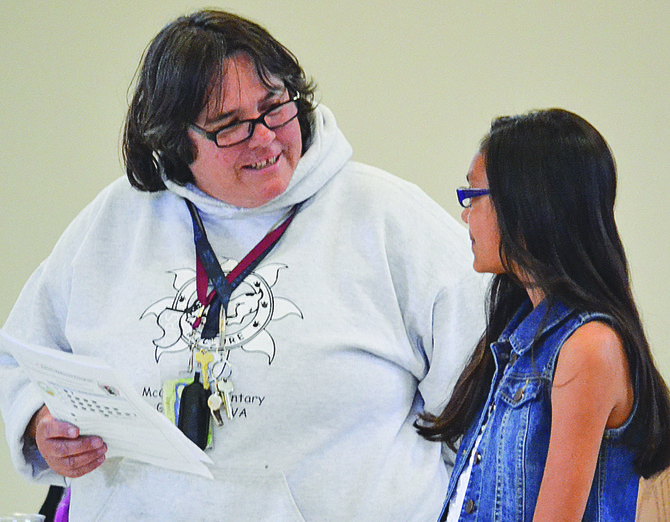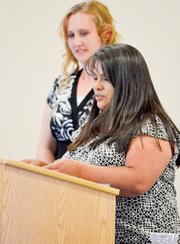 GRANDVIEW – "This is a community award," Grandview City Administrator Cus Arteaga said last Friday upon receiving the community's Person of the Year award. "This is a great place to work and I really appreciate all your support."
The Grandview Chamber of Commerce held its annual community awards banquet last Friday at the community center, and Arteaga was one of several to be honored.
The chamber recognized Julie Soria as Volunteer of the Year for her work at Thompson Elementary School.
The Orrin Dybdahl Youth Award was presented to Mike Carpenter for his work with Grandview Parks and Recreation, and the Port of Grandview was honored with the Community
Development award.
The President's Choice honor was presented to Michael Hendrickson.
In a bit of a surprise, Grandview's Business of the Year award was bestowed on a Sunnyside business, Sunnyside Community Hospital.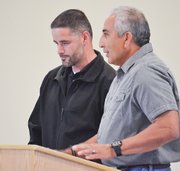 Chamber President Lonnie Hendrickson said the civic group was about to fold when the hospital came through with a $10,000 contribution to keep the chamber of commerce going.
Other awards presented Friday night included Kiwanian of the Year, David Skinner; Rotarian of the Year, Joan Souders; Outstanding Firefighter, Mike Kukes, Top Responder, Kateland Hurst and Outstanding Police Officer, Lupe Martin.
School awards presented included:
A.H. Smith Elementary
Paul Lundy, employee of the year, and Lorenzo Castilleja, student of the year
McClure Elementary
Veronica Allen, employee of the year, Evelyn Garza, student of the year
Thompson Elementary
Joyce Meeker, employee of the year, Jazell Tovar, student of the year
Grandview Middle School
Jeff Miller, employee of the year, Kendal Roberson, student of the year
Compass High School
Jane Graf, employee of the year, Thalya Bibriesca, student of the year
Grandview High School
Gary Baker, employee of the year, Bryce Carpenter, student of the year