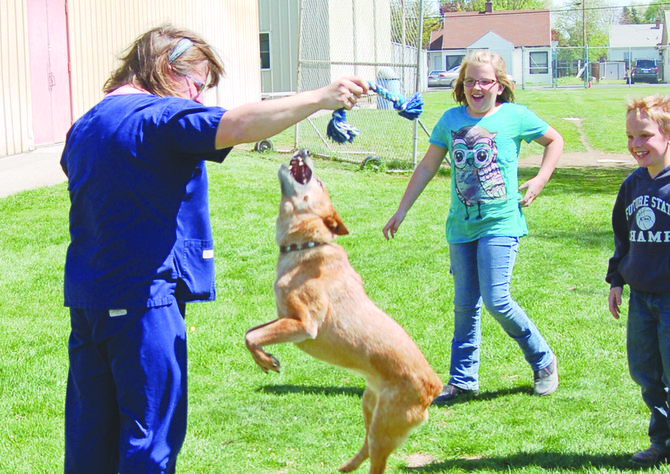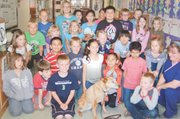 Deb Schrotenboer's second grade class at Sunnyside Christian School is preparing for the 34th annual SCS Booster Club Auction, to be held Saturday, May 3, with a project focusing on the proper care of pets.
"For the Love of the Pets" is a book that the students have been putting together with the help of parent Tonee Williams. The album will feature pictures of students in the class with their pets.
The book will be available at the auction as part of a big basket of pet supplies and other goodies the second grade class has put together.
"The prize the class is offering for auction will have all sorts of pet items, the photo album of the kids with their pets, a $300 gift card to Pet Health Clinic and two Alaska Airlines tickets," said Williams.
As part of putting together the album, the students have been learning how to take care of pets. This week Heidi Faith, a vet tech at Pet Health Clinic, gave a presentation to the students with the assistance of Reddy the heeler.
She emphasized the responsibility inherent in owning a pet, pointing out that it's important to keep pets healthy and happy.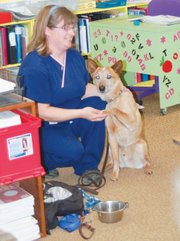 "They always need water," she told the class. "In the summer when it's hot, dogs need water to drink. In the winter they need water too, and you need to check it. What happens to water when it's very cold?"
The children correctly shouted out that water turns to ice, and Faith told them that part of owning a dog means making sure it has water that it can drink.
She also talked about not allowing pets to roam loose and the importance of getting vaccines to protect animals against common diseases.
"There's a disease called parvo that's very common around here," she said. "It makes the dogs hurt in the tummy and sometimes they die from it."
She also talked about deworming dogs, a topic that brought questions from the children, who wanted to know how a dog gets worms.
"Dogs can be born with worms, they get them from their mothers," said Faith. "But once they've been dewormed, they can get them from eating dead animals."
She also talked about making sure animals are spayed and neutered, pointing out that the world has plenty of puppies and kittens to go around.
When Faith opened the floor to questions, the students had a lot to ask. They wanted to know what to feed various animals, including rabbits, hamsters and cats. Students also told stories about their own pets. One girl related how a neighbor dog often ate the food her family put out for their own dog.
"That's one reason it's important to keep dogs in a yard or on a leash," she said.
After the presentation, the children got to see Reddy play dead and shake hands. Reddy also led the children outside for a short romp in which he showed them how high he can jump.
The SCS Booster Club Auction will be held at the Sunnyside Christian High School gymnasium on Saturday, May 3, starting with the silent auction at 4:30 p.m. Dinner will be held at 6 p.m. and costs $15 for adults and $6 for children at the door.
The live auction, including the second grade basket, will start at 6:30 p.m.