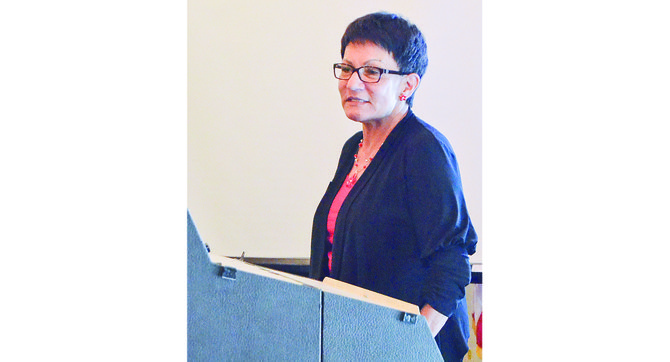 Nuestra Casa in Sunnyside was founded on the principles of serving the community by providing services to those who are in need of support and educational opportunities.
That's according to its founder, Sister Mary Rita Rohde, and Executive Director Esperanza Lemos, the featured speakers at Monday's Sunnyside Noon Rotary Club meeting.
Rohde said the doors were opened after she found there were many immigrant women in the community who felt isolated. Many of those women were under-educated and could not speak English.
Lemos said she joined the organization, believing its purpose served her desire to meet the needs of the community.
She grew up in Mabton, the child of two people with a limited education. Her parents spoke little to no English.
Lemos dedicated her career to educating others and wanted to help people like her family.
"I found Nuestra Casa would help me meet that goal," she told the Rotarians.
Lemos said the primary component of the services provided by Nuestra Casa is education.
There are six levels of English as a Second Language classes, as well as GED, citizenship, driving and health education classes.
To help community members learn better nutrition, there are cooking and nutrition classes available via a partnership with Our Saviour's Lutheran Church.
These classes also benefit people who have diabetes because people with the disease do not always know how to prepare meals that help them manage their health.
"Diabetes is high among the Hispanic population," said Lemos, stating there is an emphasis on health management via a nurse who provides education and support to those with diabetes, as well.
She said there is also an exercise class for women. It was started by one of the students at Nuestra Casa and helps emphasize health and wellness.
In addition, there is a women's justice circle to educate women on the way government works. Lemos said women learn how to get involved in the governmental system, as well.
In addition to the educational opportunities, Lemos said Morris Floral in Sunnyside provides flower arrangement workshops. She said the workshops provide a social outlet for those who participate.
"They can find support there," she said.
The partnerships established also extend to the AARP, which helps with tax preparation services.
"Much of what we do is possible because of our many volunteers, many of whom are college students," said Lemos.
She said several different colleges have become involved in the programs offered by Nuestra Casa through the volunteers.
Lemos told the Rotary Club members Nuestra Casa is also in the process of developing its own website, which is due to launch next month.
"We will be promoting it in the near future," she said.