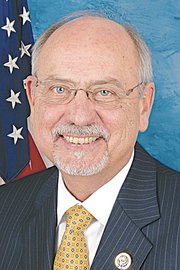 Each month I receive thousands of e-mails, phone calls, letters, tweets and Facebook messages. Here are a few questions I have received recently:
What is being done to hold former IRS official, Lois Lerner, and the Obama Administration accountable for their continued overreaching actions?
When concerns were raised in that IRS officials were targeting conservative groups who were applying for tax-exempt status, several House Committees – including the Oversight and Government Reform Committee, which I serve on – began asking questions and investigating the allegations.
Unfortunately, when Ms. Lerner testified before the Committee in May 2013 and again in March, she refused to answer questions or shed light on the necessary information to evaluate the degree of wrongdoing by the IRS.
Congress has a clear constitutional duty to conduct robust oversight of the Executive Branch and to ensure the laws are being faithfully executed. Given her ongoing refusal to cooperate with the House investigation, the Oversight and Government Reform Committee voted earlier this month to hold Ms. Lerner in contempt of Congress. The motion will now go before the full House of Representatives for approval.
As the Chairman of the Natural Resources Com-mittee, I have overseen numerous investigations into the Obama Administration and can tell you firsthand that it is failing to live up to its promise of being the most open and transparent Administration in history.
In the course of our Committee's oversight, the Administration has slow walked numerous requests, waiting months before turning over any requested documents. And when documents are provided, they are often copies of what has already been released to the public under the Freedom of Information Act or are heavily redacted. This lack of cooperation undermines Congress' constitutional obligation to conduct oversight as a co-equal branch of government. I am committed to ensuring the Obama Administration is held accountable to the American people.
What is Congress doing to get more Americans back to work?
House Republicans' focus remains on creating jobs and growing our economy. One common sense way to support small business job creators is to eliminate burdensome red tape and excessive government regulations that stifle job creation and make our economy less competitive.
The House passed several bills to halt some of the Obama Administration's most damaging regulations and ensure Congress gets final say on new rules that will have a major impact on the economy.
In addition, the House has passed a number of bipartisan measures to create jobs and unlock America's energy potential – including approving the Keystone pipeline, which is shovel-ready and has the potential to create tens of thousands of jobs throughout the manufacturing industry.
Finally, the House is working to eliminate barriers to trade by creating new opportunities for our growers and manufacturers to compete in a global marketplace, and we are working to fix the tax code to improve competitiveness.
These are just some of the pro-growth, pro-manufacturing solutions the House has passed that the president and Senate Democrats should consider to help put more Americans back to work.
With recent website security scares, what can I do to protect myself and my family online?
Protecting your banking and online shopping accounts with complex passwords can help defend your computer and financial records from consumer fraud. Also, make sure your computer has the most recent updates installed for anti-virus and anti-spyware software, and is using a secure firewall.
Furthermore, it is recommended that you not respond to e-mails asking for personal information, and never use a public computer, such as those at libraries, to input sensitive financial information when buying products or services online.
For additional information about how to protect your personal information online, I encourage you to visit www.onguardonline.gov.
I appreciate that so many people I represent take the time to share their views with me. The easiest way to contact me is through my website at www.hastings.house.gov where you can e-mail me and sign-up to receive my newsletters. You can also follow me on Facebook and Twitter for additional updates.
‑ U.S. Congressman Doc Hastings (R-Pasco) represents Central Washington's Fourth Congressional District.