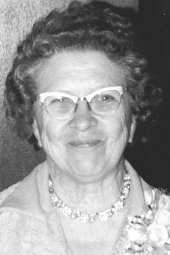 Mira Alyene Schell, 101, passed away on Sunday, April 27, 2014, in Sunnyside.
Mira was born Dec. 31, 1912 in Wapato, the daughter of Harry S. and Anna Gertrude (Shertz) Patterson.
She received her education in Wapato.
On Nov. 17, 1930 she married Theodore "Ted" Schell at Clarkston. In the early years of their marriage, the Schells made their home throughout the Yakima Valley as Ted drilled wells in Washington state and Oregon. The couple also farmed.
In 1948 they were among persons who won a railroad lottery for 80 acres of land. They broke the land, near Whitstran, from sagebrush and farmed it for several years. The farm was later sold in 1962. In mid-1960s they moved to a smaller farm north of Prosser. In the 1970s the couple moved into town, where they owned and operated Schell's Dry Cleaners in Prosser for four years until their retirement.
On Feb. 4, 1993, Ted passed away and Mira continued to make Prosser her home. The couple was married for 62 years.
Mira was known for her great sense of humor.
She enjoyed reading, cooking, crocheting, fishing, hunting and gardening.
Mira was very involved in the lives and activities of her children, grandchildren and great-grandchildren and cherished her time with them.
She was a member of the Neighborhood Assembly of God Church in Sunnyside.
Mira is survived by her three children, Harry T. (Rose) Schell of Prosser, Dorothy Jean (Loren) Waddell of Sunnyside and Donald K. (Star) Schell of Gresham, Ore.; 11 grandchildren, 24 great-grandchildren and 15 great-great-grandchildren.
Mira was preceded in death by her parents, Harry S. and Anna Gertrude Patterson; her husband, Theodore "Ted" Schell; one brother; one sister; and one great-grandson, Jaxson Paul Waddell.
Viewing and visitation will be held Thursday, May 1, 2014, from 3 to 8 p.m. at Smith Funeral Home in Sunnyside. Funeral service will be held Friday, May 2, 2014, at 10 a.m. at Smith Funeral Home in Sunnyside, with burial to follow at East Prosser Cemetery.
Those wishing to sign Mira's online memorial book may do so at www.funeralhomesmith.com.
Smith Funeral Homes Ltd. and Crematory is in charge of arrangements.
More like this story