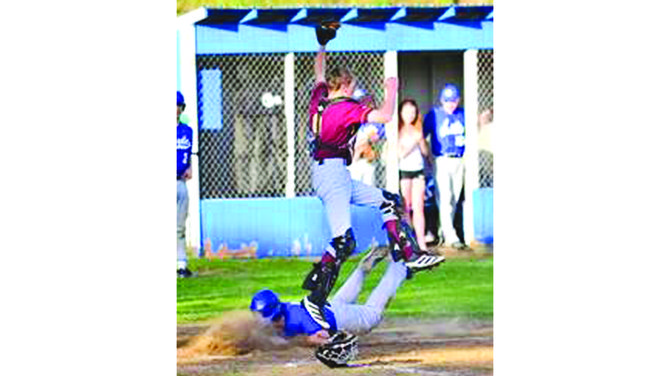 PREP BASEBALL
LYLE – Two stellar pitching performances by Wyatt Hoff and Brandon Moore propelled the Sunnyside Christian Knights to a twin bill sweep of Lyle Tuesday afternoon.
The Lyle baseball team includes players from Wishram and Klickitat high schools.
Yesterday's doubleheader sweep improves Sunnyside Christian's record to 12-2 on the season.
In blanking the host Cougars by a 10-0 score in yesterday's opener, Hoff (6-0) twirled a one-hitter. The one Lyle hit came in the bottom of the third, a bleeder between the first and second base bags.
Only three Lyle batters reached base in the first game, one on the third-inning hit and the other two on the two errors the Knights committed.
Hoff walked none and fanned nine in going the distance, shortened to six innings because of the 10-run mercy rule.
"Wyatt was hitting all the spots he was throwing at. It was probably his best pitching performance of the season," said SCHS Coach Tyler Alseth.
Sunnyside Christian scored its 10 first game runs on a total of eight hits. Moore led the way with a 3-for-3 performance at the plate, which included spanking a double in the top of the second and collecting three RBI. Brant Bosma added a 2-for-3 offensive effort for the winners. He also had a double, and drove in four runs total.
Moore, Hoff and Ryan Bangs each banged out a pair of hits in the nightcap in leading the Knights to a come-from-behind 13-4 victory.
Sunnyside Christian knotted the game at 4-4 with a two-run rally in the top of the sixth. Following two walks and a single by Moore, Ian Heffron stroked a two-run single to tie the game.
In the seventh, Moore gave the Knights the lead with a bases loaded double, which plated two runs. Sunnyside Christian went on to score seven more runs in the frame to account for the final 13-4 score.
Moore also took the hill against Lyle in game two, pitching all seven innings while scattering just three hits. He walked four, but came through with 10 strikeouts. The win boosted his pitching record to 4-1 on the season.
Sunnyside Christian is scheduled to play the Prosser JV on the Mustangs' home diamond next Tuesday.