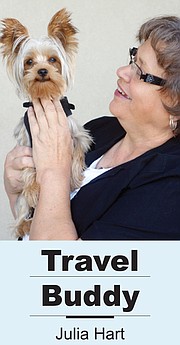 Do dogs and cats go senile?
I've heard some do. I think I know of a couple cats who are, but they could just be sleepy.
Worrying about animal senility is my current obsession. I don't want my Buddy to lose his tiny over-active mind.
I recently read an American Veterinarian Medical Association article about aging pets and now I am worried that my darling Yorkie is getting old and may someday not remember that I'm the one who feeds him.
Or it could just be me. I am aware that as I've aged, my memory is often called into question. I do seem to be having more trouble telling a story. Lately I've noticed that it takes me way too long to do even the simplest of chores.

But could Buddy also be aging to keep up with me? I have been told that one year of a dog's life equals seven of mine. He doesn't seem to be showing any signs of slowing down. He still beats me to the door in the morning and he can still chase cats as fast as they appear.

Still I worry that at any minute he will start developing signs of illness, sore joints, weakened vision, weight gain, loss of teeth, along with a refusal to take his evening naps in my lap.
Wait! He's already refusing those naps. Maybe, though, it's because it is just too hot in the house for such close quarters. Luckily, I haven't seen any signs of sore joints or loose teeth.
He seems to eat what he wants and prefers a treat to human food. Unlike a lot of aging dogs, he doesn't seem to be gaining any weight, but then, he hardly ever sits still long enough for his food to turn to fat.
Maybe I should try to stimulate his mind a bit more. Perhaps I could teach him some new tricks.

No, that won't work. I'd have to learn them first and we've already discussed my memory issues.
Sorry Buddy, you're on your own. Don't get old.