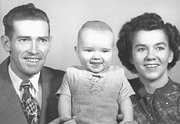 Garnet Pearl Luther, 88, of Kent passed away peacefully at her daughter's home on Wednesday, July 30, 2014, after a lengthy illness.
Garnet was born June 28, 1926 in Sundance, Wyo. To George and Myrtle Humphrey. She grew up with four brothers and three sisters. She graduated from high school in Toppenish, and continued on to receive a nursing degree in Yakima.
Garnet married Norman Luther on May 25, 1950 in Idaho. They celebrated 63 years of married life until Norman's death in 2003.
She had one son, Larry in 1951 and her daughter, Linda in 1958.
She worked alongside Norman in building their home and farm in Grandview, and lived there until 2001, when they retired and moved to Kent.
Garnet was a member of the First Baptist Church of Kent.
After Norman's passing, she lived with Linda and her family until her death.
Garnet enjoyed camping, fishing immensely, cooking, baking, crocheting and doing crafts of all kinds. One never visited their house without having some kind of baked item and coffee. Garnet also enjoyed spending time with her grandchildren, taking them on many of their fishing trips.
Garnet is survived by her daughter and son-in-law, Linda and Randy Schriock of Kent; six grandchildren, Kyle Luther, Candace Messenbauer, Megan Lessard, Kristine Schriock, Matthew Schriock and Katelyn Schriock; eight great-grandchildren; numerous nieces and nephews; and other family and friends.
Garnet was preceded in death by her parents, George and Myrtle Humphrey; her brothers; her sisters; her son, Larry Luther; and husband, Norman Luther.

Graveside services will be held Friday, Aug. 8, 2014, at 11 a.m. at Lower Valley Memorial Gardens in Sunnyside.
Those wishing to sign Garnet's online memorial book may do so at www.funeralhomesmith.com.
Smith Funeral Homes Ltd. and Crematory in Sunnyside is in charge of arrangements.
More like this story