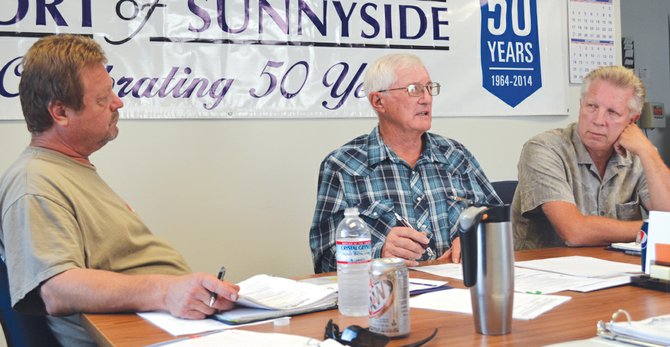 Following an executive session with realtors Monday night, Port of Sunnyside commissioners appear close to selling off nearly 500 acres of the port district's land holdings.
Last night's executive session to review bids with Kenny Nelson and Randy Tucker of Sunnyside's DK Bain firm followed the port's regular business meeting.
The meeting was continued today at noon so Port of Sunnyside commissioners could further mull a potential sale.
Four weeks ago commissioners formally put the acreage up for sale. Most of the land is southwest of Sunnyside, near the Yakima River. About a third of the acreage is north of the Sunnyside Airport.
At their continued meeting today, port commissioners may move into executive session and/or agree on a sale. They may even extend the meeting again to another day.
Port Commissioner Jeff Matson made it clear the district will keep its options open.
In response to a question during the regular business meeting by Jason Smeenk, who represented one of the bidders, Matson said the port will continue to entertain offers until a final decision is reached.
Land sales could be timely for the port, which is in the final stages of funding its $8 million anaerobic digester. That project will dramatically increase the district's capacity to process industrial wastewater.
In related discussions prior to Monday's executive session, port commissioner Arnold Martin shared his observations on the Yakima County New Vision meeting in Granger last month. He referenced a presentation at the meeting related to converting methane gas into biodiesel fuel.
Methane gas will be produced by the port's digester, making it a potential candidate for a bio-diesel conversion.
"It's not a cheap investment," said Martin. "But it's definitely something to take a look at."