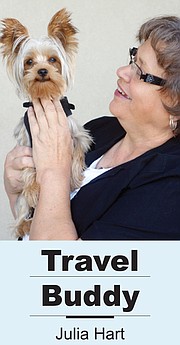 Last weekend Buddy nearly had to be sedated because he was so excited. He thought for sure I was going to let him attend the Sunnyside Lions Club 16th Street Flea Market and Community Yard Sale, held near our home on Saturday.
He was good as gold all week leading up to the event. I suppose he thought I might let him see his "public" if he was a good little doggy.
I might have. I might even have considered letting him give out "paw-o-graphs" to his growing fan base. A few photos with his admirers might even have been a part of his outing.
But then disaster struck.
Buddy, on a good day, can be a bit scattered. By that I mean he chases his tail a lot.
It is very hard for him to stick to one area of activity. There is just too much going on in his world. He is so adept at jumping onto the sofa and chairs for a closer look at what he is chasing that he often forgets in which direction he was headed.
And, when Buddy, who on the best of days is hyper, slips past me at the front door and heads for freedom, I know it will be a while before I'll be able to corral him.
Oh, he comes back eventually. But it makes me very anxious until I have him in my arms and safely tucked inside again.
Last Friday, however, there was no calling him to heel. In his excitement Buddy simply didn't hear my worried commands to return home. He just went crazy, circling our yard, the neighbors' yards and the nearby parking lots. I really was scared that his next circle would take him directly onto the always busy 16th Street. It would devastate me if anything happened to the little mutt.
So his mad dash for the outdoors cost him a trip to the flea market Saturday. The painful part for him was that he could hear me talking with people at the flea market. Every now and then the shoppers could hear him offer a "bark-out" to let them know he was in the area.
Everyone asked about him and wondered where he was. "Time-out," was all I could say.
Perhaps it is just as well that he had to stay home Saturday. I fear his near celebrity status will just go to his little shaggy head.
Buddy is really a good little dog. Maybe it is the nature of his breed that causes him to be so blasted fast and furiously passionate about seeing the world.
So until I can settle whatever drives him, he'll not be making any "famous mutt" tours. He'll just have to be the Buddy you read about.