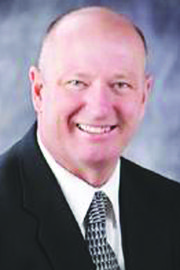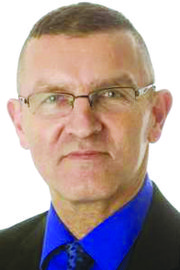 Six candidates for Yakima County sheriff are now down to two, as last night Yakima County voters advanced Brian Winter and Jim Keightley to the November General Election.
Tuesday's primary saw Winter, who's been with the Sheriff's office for 23 years, garner 10,027 votes (49 percent) and retired Washington State Patrol trooper Jim Keightley receive 4,492 (22 percent).
"I'm very humbled by the support I've gotten," Winter said last night. Of the more than two-to-one margin advantage over Keightley, Winter added, "I'm not surprised, there's a good relationship between the sheriff's office and the community."
Keightley, who currently serves with the Ellensburg Police Department, last night pledged to reach out to the other four candidates in the Primary race. He noted Winter failed to earn a majority of the total vote.
"I'm confident we will take on the challenge and be successful," Keightley said. "We need a change in our leadership, our sheriff's office is not the excellent agency it could be. The only way to move forward is from the outside or we'll get more of the same."
Winter feels last night's outcome is an indication the public is satisfied with how the office operates.
"Keightley's big push is the sheriff's office is broke and he's the only one who can fix it," Winter said. "Evidently the voters don't agree."
Though he sees no wholesale changes are in order, Winter feels there are some "tweaks" needed in the sheriff's department, such as follow-up phone calls to the public to see if they're satisfied with the response from dispatchers and deputies.
Keightley feels voters have a clear choice this November…and it shouldn't be Winter.
He says Winter's decision to wear his uniform while campaigning shows a lack of judgement and leadership.
"If I was still working for the State Patrol and campaigned for office wearing the uniform, or campaigned wearing the Ellensburg uniform, I'd be fired," said Keightley. "Our sheriff's office has suffered greatly because of a vacuum of leadership."
Both candidates now advance to the General Election ballot to be decided on Tuesday, Nov. 4.
The other four candidates in the primary race were Stephen Changala (1,739 votes), Jeff Ketchum (1,695), Anthony Bosworth (1,106) and Rick Mottice (1,025).