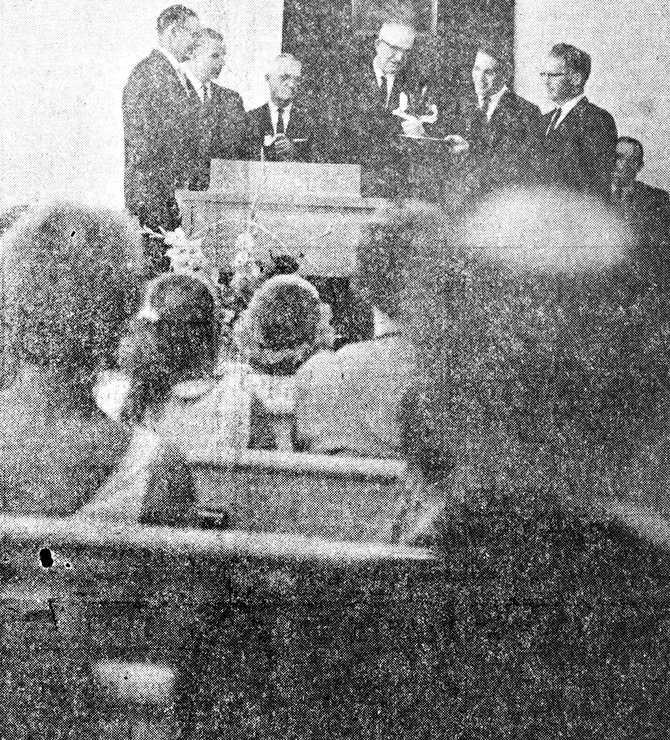 Over the Shoulder
A look back in time from the files of the Sunnyside Daily Sun News and Sunnyside Sun
110 YEARS AGO…(1904)
Sunnyside Lodge No. 138 of the Ancient, Free and Accepted Masons was formally instituted. Grand Master Dr. E.H. Van Patten of Dayton visited the new lodge for the installation of Worshipful Master W.H. Cline, Senior Warden O.J. Steward, Senior Deacon H.H. Wende, Junior Deacon G.W. Shanafelt, Treasurer Joseph Lannin, Secretary Ira D. Boutell, Tyler F.E. Allen and Junior Warden-elect C.E. Woods.
100 YEARS AGO…(1914)
The Sunnyside Sanitarium was formally opened to the residents of the local community. The project to build the first hospital in Sunnysyide was spearheaded by doctors J.L. Walker and D.C. Crocker.
The European War prevented Dr. J.R. Shuman of Sunnyside and his family from sailing overseas from New York during a family vacation. All trans-Atlantic voyages were cancelled.
90 YEARS AGO…(1924)
Pacific Power & Light Company Manager F.N. Florine announced a 66,000-volt power line was installed from Toppenish to Granger and the line was to be extended to Sunnyside.
Washington state figures showed Sunnyside High School spent 60 cents per student per day with a student-teacher ratio of 29 students for every teacher. These figures were obtained to determine the cost of education in the county. Yakima High School bested Sunnyside with 25 students for every teacher at the cost of 62 cents per student per day.
80 YEARS AGO…(1934)
Sunnyside's American Legion baseball team defeated the Yakima Indians 4-2 for the Eastern Washington title. Howard Johnson, star pitcher of the Yakima Valley League, allowed the Indians just four hits and chalked up 12 strikeouts during the championship game.
70 YEARS AGO…(1944)
David N. Hall, manager of Sunnyside's Morning Milk Company, announced the firm would be taking over milk routes in Grandview and Mabton, formerly served by the Higgins Dairy.
Sunnyside residents Glen Campbell, R.P. Haney and George Kandle were tapped to serve on a federal jury to convene over several Hanford condemnation cases.
60 YEARS AGO…(1954)
A group of seven teenagers, calling themselves the "Midnight Auto Supply Gang," believed to be responsible for the theft of automobile parts throughout town, was apprehended by Sunnyside police. Chief O.E. Hill said the youngsters were all local boys.
Sunnyside Fire Chief Mike Pilot was elected to the state fire chief's board of directors.
50 YEARS AGO…(1964)
A 9-year-old boy, after having taken Melvin Ohlde's pick-up from Blaine Avenue, crashed into the Central Service Station at the corner of South Sixth Street and Decatur Avenue. He barely missed hitting Sunnyside Police Chief O.E. Hill, who was having his cruiser serviced there.
With the resignation of Irving Newhouse as Yakima County Farm Bureau president, Don Golob of Sunnyside was tapped for the post.
40 YEARS AGO…(1974)
Sunnyside's Mountain States Construction Co. was awarded a $1.1 million contract for the expansion of Sunnyside General Hospital. Signing the contract were Henry Stamshror and hospital president Lester Leman.
Sunnyside resident, and secretary to the Roza Irrigation District, E.F. "Don" Doncaster was appointed to serve as the first American on the board of the Canadian Water Resources Association.
20 YEARS AGO…(1994)
Pacific Power & Light employees in Sunnyside took to the picket lines, informing local citizens they had been working without a contract for seven months.
Sunnyside police officer Jim Orth was named police chief in the city of Davenport.
10 YEARS AGO…(2004)
Annie Hess of Bickleton earned eighth-place honors, throwing a distance of 38-2.25 in the shotput, and fourth-place honors with a distance of 134-3 in the discus at the National Junior Olympics in Eugene, Ore.