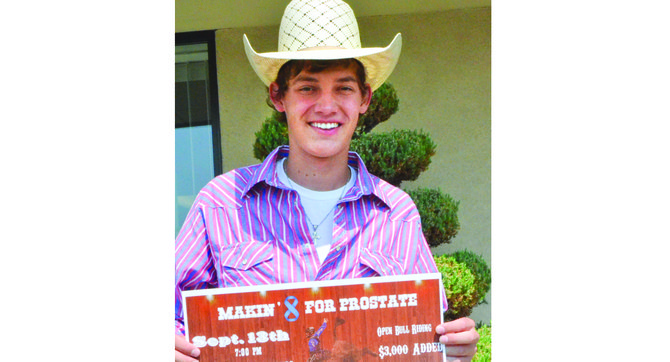 GRANDVIEW – Wyatt Wentz of Prosser is organizing "Makin' 8 for Prostrate," a fundraising event for prostate cancer awareness and research.
The bull riding charity event will take place in Fisher Arena at Grandview's Country Park on Saturday, Sept. 13.
Wentz said he chose to organize the event for his high school senior project.
"My family raises bucking bulls and I have a passion for rodeos," said Wentz.
He said the fundraiser is a way for him to blend his passion for the animals the family raises with his desire to promote prostate cancer awareness.
The Wentz family, he said, has award-winning livestock and he has arranged for a number of professional bull riders to participate in the Makin' 8 for Prostate event.
He said the event should be filled with thrills and spills, all in an effort to raise funds for prostate cancer research.
Wentz said it is important to him to promote awareness of the disease because it affects many men.
"I just don't feel there's as much awareness for prostate cancer as there is for breast cancer," he said, noting his grandfather was recently diagnosed with the disease and he has a teacher who is a survivor of prostate cancer.
Wentz said the event promises to be exciting.
He has also made arrangements for a beer and wine garden, which will be operated by Airfield Estates.
Admission to the event is $15 for adults, $10 for children 10 and younger.
The action begins at 7 p.m. on Sept. 13.