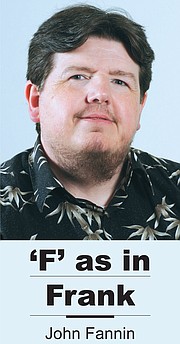 Occasionally in my 14 years of covering political races I've stumbled on an issue that I didn't realize was an issue.
In covering this week's Primary Election contest for sheriff it was pointed out that one of the candidates has worn his Sheriff's department uniform while campaigning.
I looked back at our photo archives in the Daily Sun News, and sure enough one of the four made a campaign appearance here in Sunnyside very much in uniform. The other three were dressed in civilian clothing, even though they work in law enforcement.
I also looked up pictures we'd taken of our current sheriff, Ken Irwin, when he was on the campaign trail. Yep, he, too, was out of uniform…at least according to the records I could find. Although, by his own admission yesterday, he has worn a uniform he purchased while campaigning.
That issue quite honestly had never occurred to me until it was brought up this week.
It got me to wondering if the candidate for sheriff in uniform had violated state law. There is indeed a law on the state's books forbidding use of public facilities to support or oppose candidates for office…and for that matter even ballot measures.
So the question is, does that statute apply to the use of official uniforms? The answer appears to be uniformly uncertain. It's yes and no all at once.
The Public Disclosure Commission (PDC) enforces state political campaign regulations.
In 2004 it issued an interpretation, amended as recently as 2013, on the use of public facilities for campaigns.
Regarding uniforms, the PDC says it's okay for candidates to wear their uniform or official clothing, as long as they purchased it.
If the uniform is provided by a government agency, then it's forbidden. Same goes for any badge, patch, emblem or any other items provided by the agency.
So the question for our Sheriff hopeful should actually be this:
Does he own the uniform, badge, patch and any other official items he wore on the campaign trail, or do they belong to his employer, the Yakima County Sheriff's Department?
I'd say the safe answer for candidates would be to make it a moot question, period, by not wearing official gear while stumping for votes.