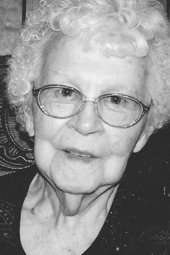 Mildred Mary Maxey Moran, 102, of Sunnyside passed away on Monday, July 14th, 2014, with her loving husband, Jack, and daughter, Wanda by her side.
Mildred was born Jan. 31, 1912 in Campbell, Ark. to Caleb and Emma (Mabrey) Massey. She had a wonderful childhood on the farm in Arkansas with her five siblings.
Mildred received her education in Searcy County schools and worked her first job in the local newspaper office.

On June 30, 1930 Mildred married William H. Maxey in Rock Springs, Ark. The couple later moved to Astoria, Ill., where their three children started school. In 1946 the family moved to Sunnyside.
Mildred worked in fields, canneries, stores and a local funeral home. Mildred loved to camp, fish and play games with family and friends. She enjoyed making hand-stitched quilts for her children and grandchildren in church circles and at friends' homes.
Mildred was a longtime member of First Baptist Church in Sunnyside, where she was a part of various church committees and the choir.
In 1998 Mildred married Jack Moran.
Mildred is survived by her husband, Jack Moran of Sunnyside; daughter, Wanda Schilperoort of Sunnyside; son, James R. Maxey of Wenatchee; nine grandchildren; and many great-grandchildren and great-great-grandchildren.
She was preceded in death by her first husband, W.H. Maxey, in 1987; their daughter, Emma, in 1996; her parents, Caleb and Emma Massey; one sister, four brothers and one grandchild.
Mildred's family would like to thank the doctors and nurses at Sunnyside Community Hospital, Heart Links Hospice and Sun Terrace for their loving and kind treatment.
A memorial service will be held Saturday, Aug. 16, 2014, at 11 a.m. at the First Baptist Church in Sunnyside.
Those wishing to sign Mildred's online memorial book may do so at www.funeralhomesmith.com.
Smith Funeral Homes Ltd. and Crematory in Sunnyside is in charge of arrangements.