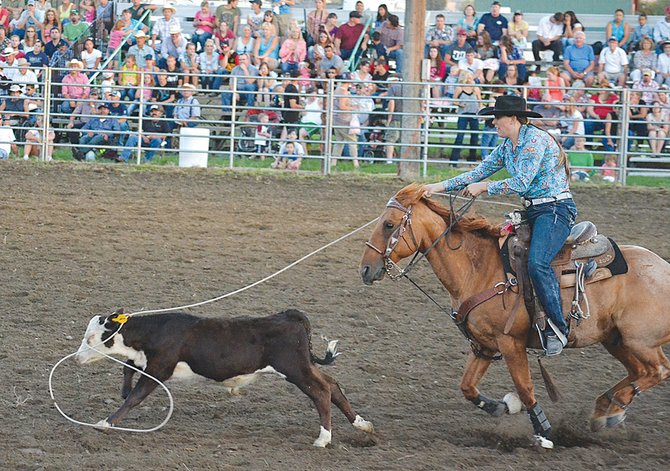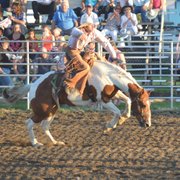 GRANDVIEW – Following are the results of two nights of ropin' and ridin' in Grandview during the Yakima Valley Fair and Rodeo.
Cash Kerner won the bareback riding contest and earned $414. Orlun McGuffin was second ($311), followed by Cole Apgar ($207) and Jacob Larson ($103).
In the saddle bronc, Wade Kane of Ellensburg and Jacob Stacy of Moses Lake divided the winnings with $679 and $491 prize earnings, respectively.
The tie down calf roping competition saw Justin Kimsey earn first-place honors and a prize of $675. Runner-up was Brian Hayes ($558) and Abe Stills was third ($442).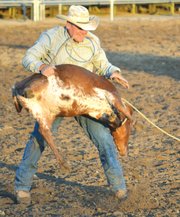 Mary Ann Knapp of Buena earned top honors in the breakaway roping contest with $612 in prize money. Britni Carlson of Hermiston, Ore. was second and earned $506. Jennifer Casey of Mesa was third and garnered a purse of $401.
Ty Sherman earned the top prize of $556 in the steer wrestling competition, followed by J.T. Garland at $417 and Levi Sherman at $278.
In the team roping event, the duo of Justin Marcus of Spokane and Hermiston's Andy Carlson took home top honors with $549 apiece in prize money.
Second was Garrett Rogers and Brent Falon earning $455 each. Earning third place honors was the team of Jack Fischer and Jason Minor with $360 apiece.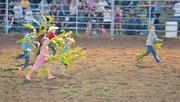 Mabton's Cheyenne Allen received the top prize of $726 in the barrel racing event. Next was Shane Falon with $631 and Britni Carlson at $536.
A first-ever event at the Grandview rodeo this year was the ranch bronc riding competition. Friday's competition was won by Steve Gillin of Prineville, Ore. His prize money was $480. Travis Yutzie of Hermiston, Ore. was second at $288 and Wade Kane of Marlin, Wash. was third at $192.
Saturday saw Gillin repeat his success and earn another $384. Josh Canode of Kennewick was second ($288) and Dave Gordon of Pilot Rock third ($192).