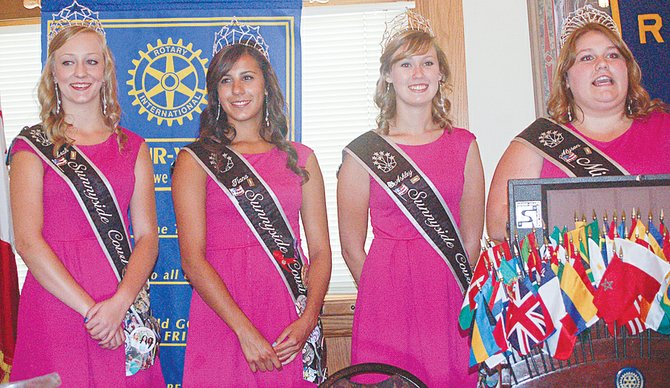 As the end of their reign nears, the Miss Sunnyside Court is looking forward to packing away their tiaras and princess sashes.
But not for at least another eight weeks.
"We still have four parades left to attend, including Prosser States Day Parade on Sept. 1," said Miss Sunnyside Princess Ashley Davis.
As Monday's guest speakers at the Sunnyside Noon Rotary Club meeting, the court shared stories of their adventures at local and regional community parades and at numerous new business ribbon cuttings and grand openings they've attended during the past year.
Miss Sunnyside Alyson Spidle said one of the more memorable parades was the recent Sea Fair Parade held in Seattle. After waiting in line for a few hours, the lights on their float, "Egyptian Treasures," went dim, Spidle said.
Luckily, the court's parents were able to track someone down with jumper cables and when it was "…our turn to move into line, the lights were back on," she said.
Davis' father went out and added a box of jumper cables to the float trailer's emergency supply tool box, she added.
Spidle also told the Rotary members that the "Egyptian Treasures" float has won awards at every parade in which it has appeared. This year, the court has appeared in 15 parades.
"We still have four parades to go, including Sunnyside Sunshine Days in October," she added.
Looking back over the year, the court has made special appearances at Miss Mary's Pre-school on every major holiday, attended nearly every community event, including the recent Sunnyside Chamber of Commerce and Sunnyside Parks and Recreation Department-sponsored National Night Out block party at South Hill Park.
Outside of the ribbon cuttings and parades, and official engagements, the court also organized and hosted a Special Olympics track and field event in Sunnyside this past April.
"Special Olympics was my community service project," said Spidle. She said 54 athletes competed for medals and ribbons at the event she organized in honor of her cousin Matt, who has special needs.
As their last court responsibility, Spidle and her princesses … Davis, Tiana Perez and Leah Diddens … still have to prepare for their part in Sunshine Days, which will be held Oct. 3-5. The court will be appearing in the local parade, as well as hosting a royalty luncheon for out-of-town community royalty and will make their final appearance as the current Miss Sunnyside Court at the annual Miss Sunnyside Pageant.
A new Miss Sunnyside and her court will be selected at the pageant to be held Sunday, Oct. 5, at the Sunnyside High School auditorium, according to Teri Alvarez-Ziegler, court chaperone and pageant director.