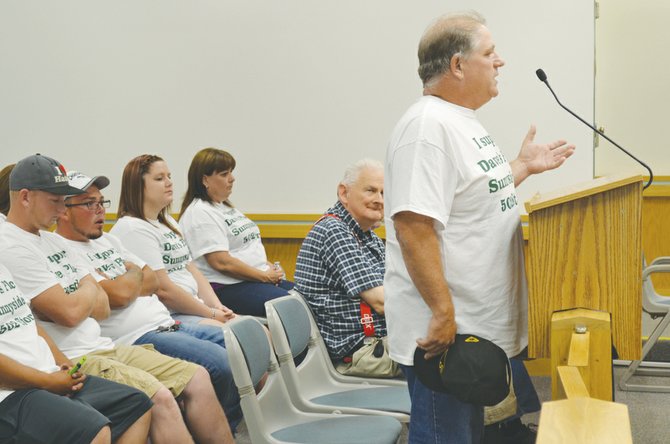 It's about money. It's about kids. It's about personal rights.
All of the above were given as arguments to back or ban recreational marijuana sales in Sunnyside during an hour-long public hearing with the Sunnyside City Council last night.
The outcome after the hearing likely didn't satisfy either camp, as council on Tuesday night voted 5-1 to renew a six-month moratorium on processing applications from merchants who want to sell pot.
Councilman Craig Hicks was not present at last night's meeting. His absence was excused.
The moratorium previously in place was set to expire last night, forcing council's hand. The moratorium forbids city staff from accepting applications for recreational marijuana sales, as well as growing and processing the plant.
At the center of the debate is contractor David Rand, who has already started building a marijuana shop on the edge of town at Maple Grove Road and Yakima Valley Highway.
"I will move forward," Rand told council. He claimed he is working with the state on obtaining permission to sell marijuana here.
Rand threatened legal action if council hindered him. "If the city of Sunnyside wants to spend money on attorneys, spend it on attorneys," he said.
Rand added that legalizing marijuana sales is ultimately about money, noting he'd hire eight employees at $15 per hour the first day he opens.
About a dozen citizens addressed council on the issue. Some like Eric Placzek, a father of four teens, pushed for a marijuana ban to protect kids.
Rand countered that he's been supportive of youth, and even brought foster children into his home.
Adam Marcus has two teens at home and owns Station 420 in Union Gap, the first retail marijuana store in Yakima County.
"Like any dad I'm concerned for their welfare," Marcus told council. "One of the things I know my store is doing is making access to the black market more difficult…it's harder to find black market marijuana every day."
Jeffrey McPhee with the advocacy group CAUSE M runs a medical marijuana dispensary outside of Yakima. He says an extended moratorium or ban would only feed the black market. "You're missing the point with youth access," he said. "It will skyrocket…the black market will recognize the vacuum and fill the void." He contended legalized marijuana sales to adults would take it out of the hands of youth.
Cathy Kelley of Sunnyside United also provided testimony to council. Speaking as a private citizen, not on behalf of the group, she expressed support for renewing the moratorium. "It will put you in a better position to make an informed decision," she said.
If Sunnyside eventually approves marijuana sales, Kelley pleaded with council to not allow the stores to advertise on social media.
Arturo Santana of Sunnyside also backed a renewed moratorium, claiming a black market will develop within the state's legalized retail market. "The risk will outweigh the rewards," he cautioned.
There was also division within the Sunnyside City Council. Deputy Mayor Theresa Hancock, who cast the only no vote on renewing the moratorium, stated that last month alone there were nearly $4 million in retail pot sales statewide. She also pointed to tight regulations governing store operations that would prevent sales to those under the age of 21.
Councilman Dean Broersma backed renewing the moratorium but also said he was a realist in that Sunnyside might have to accommodate the sales eventually.
"We need to know what we're doing. I don't mind going through the procedures, but just once," Broersma said of Prosser's turnabout in first allowing pot sales then enacting a moratorium. "We don't want to end up in that situation."
Broersma says he's heard from many citizens who "…want to extend a moratorium forever…but it may not be legal for us to do that."
Mayor Jim Restucci backed the moratorium as a way for Sunnyside to see how lawsuits against Fife and Wenatchee play out.
He said if Sunnyside enacts an all-out ban on pot it, too, would likely get sued and possibly lose in court if it tried to restrict a right granted by a vote of the people.
Restucci said the legal waters on retail marijuana in Washington are changing and often. "It's like a friggin ocean right now," he said.
The Sunnyside City Council agreed to renew its focus on moving forward to a conclusion, starting with a city council workshop set for Tuesday, Sept. 2, at 6:30 p.m.