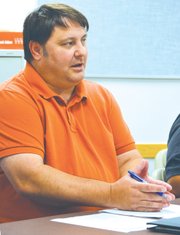 The Sunnyside Public Works Department wants to add three new employees to its payroll in 2015.
Public Works Director Shane Fisher brought up the discussion this past Monday night during a meeting with the Sunnyside City Council's subcommittee on public works.
All three posts once were on the city's payroll before a downturn in new construction led to cuts.
The permit tech post Fisher wants to establish, for example, was a city job eliminated a few years ago due to budget cuts. Fisher wants to bring back the position because the pace of new construction has picked up.
The tech position would be responsible for accepting permit applications, as well as routing and issuance of permits. It comes with an annual price tag of approximately $47,000 for wages and benefits.
Another job Fisher wants filled is a full-time parks maintenance employee at a cost of about $57,000 per year.
He noted that prior to 2008 and 2009 the city had three fulltime parks maintenance employees and six seasonal workers. Now the numbers are one and three, respectively.
The third job Fisher wants added to the city payroll is that of a full-time streets maintenance employee. "We've been down one person since John Stanton retired," said Fisher. That post has an annual salary/benefits package of $57,000.
The subcommittee was non-committal on Fisher's requests, noting he would face more questions when he makes the appeal to council during the 2015 budget-writing process.
Committee members also suggested partnering with other cities or with YVCOG to help fill the posts at a lesser cost.