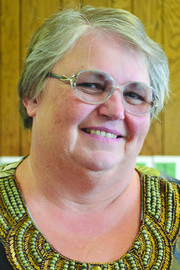 Swapping the school office for the business office, Idaho native Paulette Johnson is on board as the Sunnyside School District's new director of teaching, learning and assessment.
She comes to the district from the Rainier School District, where she was an elementary school principal for 20 years.
"It was a big shock to my staff," Johnson says of the move. "I had lots of panic attacks," she laughs.
She replaces Sam Ramirez, who previously held the position.
The decision to make a big move, both geographically from western Washington and professionally from the principal's chair, came about because the post here advances her career.
"I have my superintendent's credentials and this allows me a step forward," Johnson says.
As director of teaching, learning and assessment, Johnson's responsibilities include assisting staff and teachers in making the switch to Common Core standards.
This will be the first year for Sunnyside schools to transition to Common Core, but the Rainier School District was part of a pilot program that ran Common Core last year.
That's given her insight into the program, which will see students here face a new system of standardized tests and out-of-classroom projects.
Johnson was also the Rainier School District's grants manager for 20 years, experience that will stand her in good stead as she assumes the same responsibility for Sunnyside schools.
Johnson says she's settling into her new role here. "It seems like a great place to work," she said.
Her husband, James Johnson, is also handling a professional transition as he was recently hired as a special education teacher in Toppenish.
"We don't know where we're going to live yet," she smiled.
Johnson is an educator with 38 years of experience, including stints in Idaho and Oregon.
She likes the sunshine of central Washington and says she won't miss the Puget Sound's rain.
There is one thing Johnson misses, though.
"I will miss the kids," she says of working in a school building. "I'm going to have to get a fix soon and go visit the middle schools. I love middle school kids."