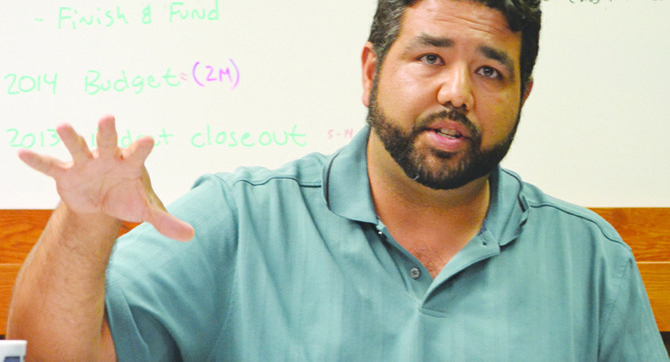 MABTON – The people of Mabton have spoken, and they are not wild about the idea of giving their mayor a four-fold salary increase.
That was the result last night, Tuesday, of a nearly 90-minute "visitors comments" period that turned into a public debate on Mayor Mario Martinez's proposal to increase his monthly salary from $500 to $2,000.
Martinez is seeking the raise because of additional administrative duties he is undertaking.
Martinez feels the city could pay him the extra monies each month because he says he is essentially handling the chores of a city administrator, finance director and public works director.
He says the other choice for the city council is to hire a full-time administrator, but that would cost about $5,000 monthly, not including benefits. That scenario, contends Martinez, would likely require the city to lay off some employees.
"I don't like the feeling we're being pressured into either/or," said Norma Acosta during the public comment period.
Martinez denied he is forcing the public's hand, even though he says the city would likely have to lose employees if a full-time administrator was hired. He said the city has no department heads on staff now, and so he as mayor is required to monitor staff more closely.
Martinez also pointed to accomplishments the city is experiencing under his guidance, such as more grants for public infrastructure and an effort to address day-to-day issues like animal control.
The give-and-take between mayor and citizens then sparked a debate about individual employees – past and present - and their performances.
City Attorney Jamie Carmody cautioned the public to steer the conversation back to the point at hand, which was the mayor's salary.
On that topic, another Mabton citizen, Rick Pena, suggested if council approves the pay raise then make it applicable after the next mayoral election. That way, he explained, the next elected mayor – whether Martinez or someone else – "…isn't involved in controversy."
Pena contends the debate over a salary hike proposed by and benefitting the current mayor "…puts a dark cloud over the city of Mabton."
The citizen-comment-period-turned-public-debate also involved the city council.
Mayor pro tem Oping Hutson chastised Martinez for going to most of the staff training workshops out of town. She feels instead of Martinez, other staffers should go so more employees can be cross-trained.
Councilwoman Vera Zavala told the public she hasn't made up her mind on Martinez's request. She did note that someone in an administrative capacity – whether it be the mayor or another employee – needs to be at city hall throughout the day.
Councilwoman Sophia Sotelo, however, minced no words. She accused the mayor of threatening city employees over the mayor versus administrative pay issue. Sotelo said some employees told her that Martinez has been bullying them.
The Mabton City Council will have the final say over whether Martinez gets his pay raise. They were scheduled to hold an executive session last night to review his performance.
The session was tabled, and will instead be held following the next regular meeting set for Tuesday, Aug. 26.
Council may make the decision, but Mabton's citizens want their input on Martinez's request taken to heart.
"It is our money and we should be heard," said Vanessa Cervantes.