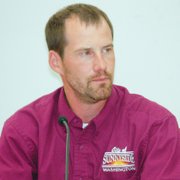 Chickens expecting to find a home in Sunnyside will have to find a new place to roost, following action taken by the Sunnyside Planning Commission Tuesday night.
The planning commission held a public hearing last night seeking comments from the community regarding the advisability of allowing residents to keep at least "…four domestic chickens on properties zoned and occupied for single family residential use only."
The comments given at the 30-minute public hearing were overwhelmingly against letting residents keeps hens in their back yards.
Unfortunately, according to one Sunnysider who spoke against the proposed change to the current city code, chickens don't always stay where they are put.
The Sunnyside Planning Commission heard comments from six people, including Joseph Palomarez, who is not in favor of the poultry being kept inside city limits.
Speaking against the proposed ordinance change, Palomarez said there are already chickens roaming around his Crescent Avenue neighborhood.
"They are messy and smelly," he said. "I don't want other people's chickens to be my problem," he said.

It has been illegal to keep livestock inside city limits for many years, but recently some residents have taken to keeping a few chickens in their back yards.
Currently, Sunnyside's codes regarding livestock inside city limits prohibits all types of livestock, including chickens and other fowl.
The Planning Commission, in a unanimous vote, agreed to recommend to the Sunnyside City Council to forego adopting an ordinance allowing chickens to be kept by local residents.