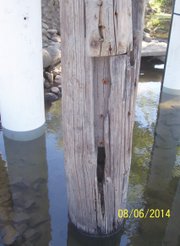 From Sunnyside to Mabton and points in between, SVID crews are making progress on a host of upgrades in the district.
During monthly meetings yesterday, Tuesday, of the Sunnyside Division Board of Control and the SVID Board of Directors, staff provided updates of the work in progress.
Dave Bos is the assistant manager overseeing operations, and he noted SVID crews were able to improve irrigation water flow somewhat to users at the end of the system in the Prosser area.
Bos said a check of a pipe in that area led to the removal of rocks and a chair. Also, plant roots were believed to be a culprit. Bos said the water to some Prosser users was off for a day or two to address the issue, but then turned back on.
One of the users impacted was Mike Hogue, a member of the SVID board. He praised the job done in a relative short turn around. "We breathed a sigh of relief when the water came back on," he said.
Over towards the Mabton area, SVID has a contractor, Vancouver-based Northbank Civil & Marine LLC, addressing issues with pilings holding up the Mabton trestle.
The Mabton trestle is an elevated, 60-inch steel pipeline across the Yakima River carrying irrigation water to the Mabton area.
Ron Cowin, an assistant manager for SVID overseeing engineering, said work on the trestle project slowed a bit when the contractor found a few pilings in rough shape. One in particular, he noted, had rotted from the inside and at some point years ago someone had driven a second piling inside of the rotted one.
The Mabton trestle work will include wrapping the pilings in a protective casing to ward off water damage, as well as damage from rocks.
Elsewhere, Bos noted SVID has been in communication with the city of Sunnyside and its engineer, HLA of Yakima, regarding work the city is undertaking at 16th Street and Yakima Valley Highway. That included making sure the base for a new traffic control signal was located clear of an underground SVID pipe.
Bos said an agreement was reached for the city to place the base about six feet away from the pipe. HLA was originally going to locate the base on top of the pipe location.
"To the credit of the city they were responsive," SVID Manager Jim Trull said of a conversation with City Manager Don Day on the matter. "They addressed our concerns."
The next meetings of the SVID board and Sunnyside Division Board of Control will be Tuesday, Sept. 9, at 1:30 p.m.