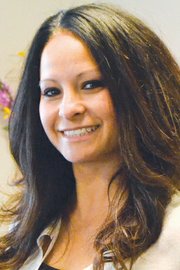 MABTON – Recently hired to serve as the new administrative secretary to Mabton Superintendent of Schools Minerva Morales is Jessica Prieto.
She has been working with students in the Mabton schools for several years as a social worker employed by Yakima Valley Farm Workers Clinic.
Prieto learned the superintendent was looking for a new administrative secretary when Ruth Villanueva announced she would be moving out of state.
"I wanted stability," said Prieto.
She said she has developed relationships with students, parents and staff in the Mabton schools throughout the years.
Her most recent work involved overseeing the high school graduation initiative in the Mabton School District.
Yakima Valley Farm Workers Clinic administered the grant, which had Prieto talking with students who were struggling academically. She would counsel them and their parents to ensure the students graduated on time.
Prieto spoke with staff in the schools to find out ways to help the students and parents overcome obstacles to graduating on time.
"I removed barriers, such as meeting basic needs, counseling for mental health issues and working with parents," said Prieto.
The high school graduation initiative is a five-year grant that will expire at the end of the 2014-15 academic year.
Prieto said she wasn't certain what her next assignment would be, but she had worked for the Yakima Valley Farm Workers Clinic for 19 years.
"I felt this was a good time to make a career move," she said.
The new position, said Prieto, gives her the confidence that she can continue to work with the staff, students and parents with whom she has developed relationships.
She said some parents may continue to seek her out as a resource, and she can direct them to the correct individual when that happens.
Prieto's new role involves working directly with the superintendent, taking minutes at school board meetings, scheduling appointments, fielding phone calls and completing documents needed by the superintendent.
"I am excited about this job," she said, stating she is eager to learn and continue developing relationships within the school district.