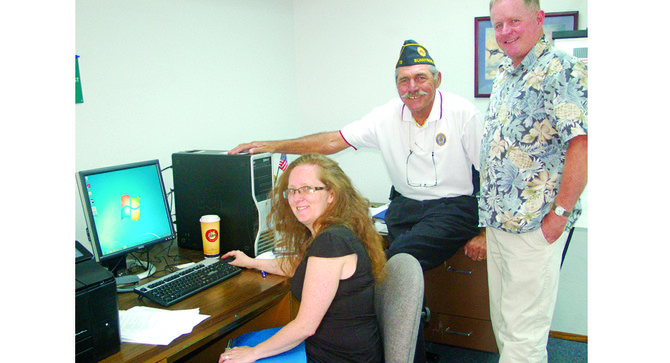 With the donation of a new computer, printer and office space, Sunnyside American Legion Post #73 is ready to begin processing local veterans' service claims from a new downtown Sunnyside location.
According to Post Commander Troy Monholland, the equipment was donated to the post by Benton REA, the state American Legion Department and with a donation from Greg Schlieve.
Sunnyside Legion member Nate Bridges also donated office space at his downtown Bell and Bridges CPA offices for use by the American Legion post, Monholland explained.
Bridges is also the post financial officer.
Monholland said the computer will be mainly used by post adjutant DeLeesa Restucci, as well as post service officers Greg Schlieve and Leroy Werkhoven.
The main purpose of the new office space and electronic equipment will be to aid in filing claims for veterans through the Veterans Administration Regional Office in Seattle.
"Post service officers will have a quiet and private place to work with area veterans seeking help with filling out the paperwork for submitting service claims," said Restucci.
"We're very lucky to have this space available to us," she said.
In addition, the post will have a place where it can store some of its properties.
Restucci said that veterans wishing to know more about service claims or how to inquire about the paperwork necessary to complete the claims can email the post at sunnysideamericanlegionpost73@yahoo.com.
"We'll have one of us regularly checking the email messages to be ready to help where we can," said Monholland.