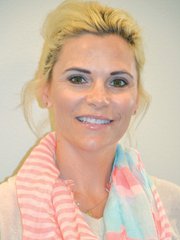 Cheerleaders, ice cream socials and building trust are all on the agenda for Sunnyside High School freshmen during the fifth annual Grizzly Academy planned for Monday, Aug. 18, through Thursday, Aug. 21.
Stephanie Torpey is in her fifth year as an English/social studies teacher at SHS. This is her first year heading up Grizzly Academy.
Torpey explains she is doing an internship this year at the high school as part of the process to receive credentials as a school administrator. Grizzly Academy is part of her internship, with responsibilities that include hiring 12 teachers for the four-day program.
Approximately 200 SHS freshmen are expected for this year's academy, up from 178 last year. Torpey says the goal is to get at least half of the incoming freshman class of 400 students to participate in the voluntary Grizzly Academy.
While the end of summer can be a busy time for families, Torpey says the advantages of freshmen attending the Grizzly Academy program make it worthwhile.
Those who complete the entire four-day program receive a half credit. More importantly, she adds, "…it helps them ease into the transition of high school…lets them get a headstart building relationships."
For example, each of the Grizzly Academy students will be assigned to one of the 12 teachers. They'll be given a check list, then report back to the teacher during the school year to review the list, which calls for the youngsters to do such things as joining a club to going to a dance to making the honor roll.
"The more involved they are the more likely they'll want to be here every day," Torpey says.
Besides the basic 101 stuff like touring the high school and reviewing the SHS student handbook, Grizzly Academy participants will also learn school fight songs with help from the cheerleaders. They'll also be treated to an ice cream social with their class advisor.
Grizzly Academy is from 1 to 4 p.m. each of the four days. Classes will include teamwork building, a fun primer on English and developing good study habits.
Torpey notes there is also a freshman orientation on Monday, Aug. 25, from 8 a.m. to 12:30 p.m. During the session students will receive their tentative class schedules.