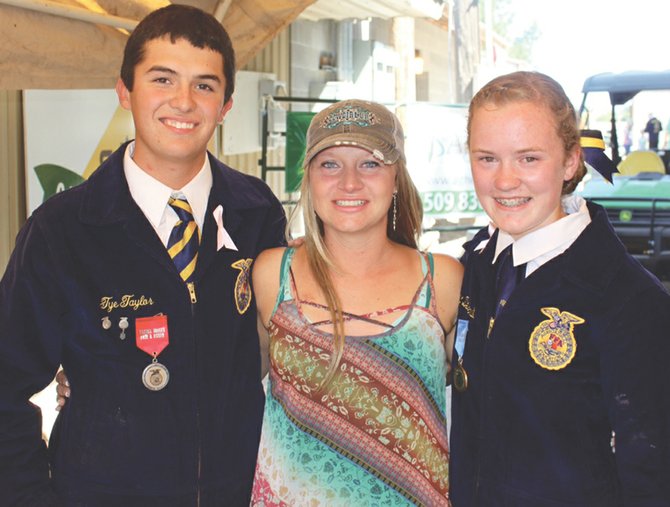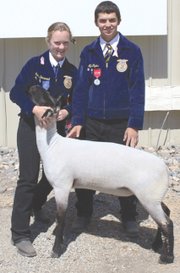 GRANDVIEW – One 140-lb. lamb was transformed into a beacon of hope when two Prosser High School FFA chapter members decided to sell the Suffolk cross at the Yakima Valley Fair livestock auction recently.
The FFA members, Tye Taylor and Lacey Desserault, wanted to do something to help out Prosser High School FFA advisor Denine Trump, who had been diagnosed with breast cancer last March. The young chapter members wanted to show how much they admired their teacher and to help her with medical expenses that were beginning to pile up.
In May, Taylor and Desserault purchased the lamb and began fattening the animal so that it would be ready in time for the Yakima Valley Fair and Rodeo, which was held in Grandview Aug. 6-9.
"We wanted to surprise her," said Taylor. "We wanted to raise money to help her with her medical costs to undergo treatment for the cancer," he explained.

"She has to travel to Seattle every week for the cancer treatments," he explained.
So on market day, typically the last day of the fair, Taylor stepped into the market arena and gave a heartfelt speech, asking the livestock buyers to be generous with their bids so he and Desserault could donate the money to their teacher.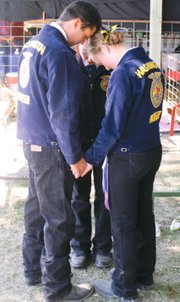 What happened next surprised both Taylor and Desserault, as well as Trump, who also serves as a livestock market superintendent during fair week. The bidding commenced and the eventual buyer turned the sheep back so that someone else could purchase the show animal. Normally there are about 20 buyers gathered at the auction, Taylor said
The lamb, it turned out, was purchased not by one person, instead it was turned back numerous times and resold more than 10 times. All told, the buyers paid $24,000 for the lamb.
"It was incredible," said Trump, who has been undergoing cancer treatments for the past 12 weeks.
Trump said she will undergo surgery in September, and the money from the auction will help her with travel, medical and lodging expenses as she commutes between Seattle and Prosser for her treatments.
"I am so grateful for their efforts," Trump said. "It was a special event for me and my family," she added.

Taylor said he wanted to do something for the popular FFA advisor ever since he learned about her illness last winter.

"Lacy and I got the idea to sell the lamb, then it was up to the buyers," he said.

"We were surprised that we were able to present her with as much money as we did," he admitted.
"We're just glad we were able to do this for her," he added.