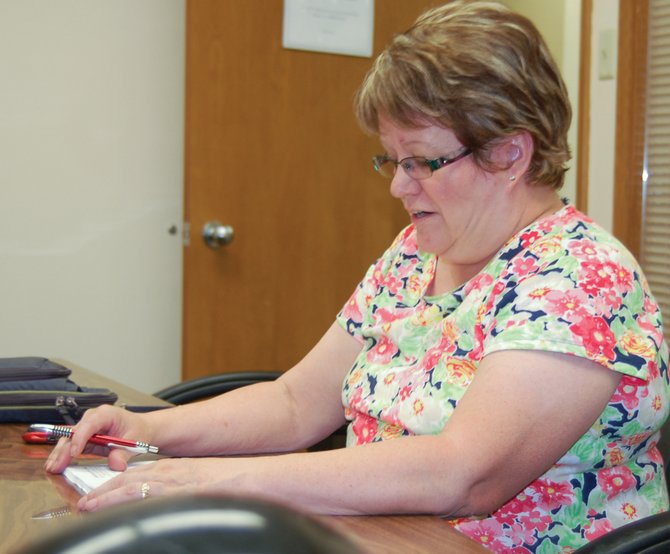 Although the city of Sunnyside's 2015 budget will be a major consideration in the near future, yesterday's subcommittee meeting on finance and administration also focused on the day-to-day operations of the city.
Finance and Administrative Services Director David Layden updated the subcommittee on the current status of budget preparations, including presenting the packet that all city departments used to make budget requests. Those requests are now being reviewed by city management with the goal of presenting a budget to either the full council or the finance subcommittee on Monday, Sept. 15.
Councilwoman Theresa Hancock, last night acting as chair of the subcommittee due to the absence of Craig Hicks, asked Layden and City Manager Don Day to provide the council with more information on any new budget items requested by departments. In particular, she wanted to know what would happen if new items or programs are not funded.
"I would like to see worst-case scenarios," she said. "We need to see the impact."
Financial Analyst Elizabeth Alba presented two proposed utility billing changes to the subcommittee.
The first involves the way the city bills rental properties. Currently, the city is managing the accounts in such a way that a new account has to be created every time a new tenant moves into a rental property.
Alba proposes going back to how the city used to manage those accounts, with a single account attached to the property. Payment of the account is the responsibility of the landlord, who receives a duplicate bill. If a tenant moves out mid-month, the landlord would be responsible for prorating the bill instead of the city.
She said that discussions with landlords on the proposal met with approval because landlords would not have to track as many account numbers.
The second change would be for properties that have water shut off for non-payment. Currently the city charges the property owner the monthly base fee unless a $30 standby fee is paid.
Alba and Day believe it makes more sense to charge a significant fee for turning the water back on, but not pile up extra fees each month while the water is shut off.
Both proposals will be presented to council.
Layden also updated the subcommittee on the current status of the city's 2014 budget. The council will need to make budget amendments to account for grant money received for the automated weather station at the airport and for shortfalls in some general fund accounts.
Layden said the parks and recreation department had lower revenues than expected, as did the jail and court funds.
The budget amendments will be presented to the full council at a future meeting.