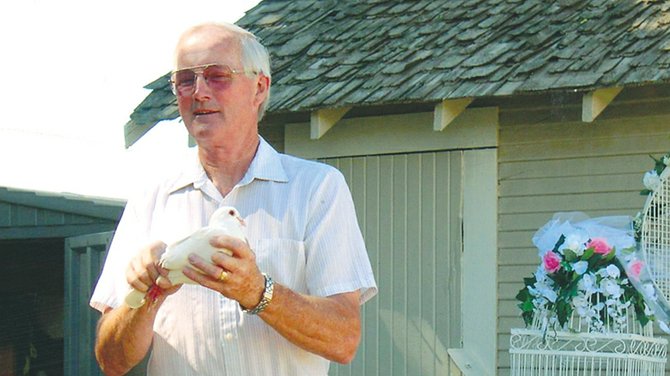 On rare occasions, if you're in the right place at the right time, you might catch a glimpse of white doves flying across the Sunnyside horizon. The graceful, sometimes darting birds aren't airborne for long, as they have a short flight home.
The white racing homers belong to Ebb-Tide, a business owned by Hank Ebbelaar of Outlook, who specializes in releasing the doves during heartfelt and memory-filled events.
Ebbelaar, a long-time pigeon fancier, has been renting out his white doves for weddings, funerals, quinceaneras and other special events throughout the Lower Valley for the past 15 years.
He said the flight of the snow white doves symbolizes peace, hope and love. They are breath-taking in flight and as a result are often used for outdoor wedding ceremonies.
Recently, he and his wife, Jeannette, who helps with the doves, set the birds into flight at a wedding, where the bride and the groom each set matching doves free.

"The dove release is symbolic since the doves mate for life," Ebbelaar explained.
Each Memorial Day Ebbelaar also takes part in the local veterans' memorial services, setting free upwards of 20 doves in homage to the sacrifice of deceased veterans.
"I will always do a dove release for a veteran," he said.
Ebbelaar also finds himself doing dove releases at funerals, saying Psalm 55:6 is part of the message he delivers as he sets the bird towards home. "…oh that I had wings like a dove. I would fly away and be at rest."
Ebbelaar, who is a passionate fancy bird hobbyist, said he took to renting out the white doves to pay for the feed bill for his more than 50 fancy show birds, which include his short beak helmet pigeons.
"Their beaks are so short they can't feed their young," he explained.
The doves, he added, also help hatch the eggs of his other birds.
After Ebbelaar retired from farming, he sought ways to continue financing the showing of his fancy birds and he landed on the idea of doing the white dove releases.
The white dove release business is growing in popularity all over the United States, he said, especially in the larger cities.
"We keep busy here with the dove releases for funerals, weddings and other special events, such as retirement parties," Ebbelaar added.
He said he has organized dove releases from White Pass to Walla Walla.
The nice thing about the doves is that they nearly always return to their Outlook home.
Sometimes, though, the birds will catch a wind current that leads them astray.
"I once had a four-dove release near Lake Chelan. Only two doves came home, the other two landed 200 miles north of the Canadian border.
"The fellow who found them kept them, because it would have been too difficult to get them back from Canada," he said.
For more than 50 years, the retired Outlook dairyman has kept pigeons, showing and winning awards with them all over the United States.
Ebbelaar has also become well known in fancy bird circles having traveled around the country meeting with other breeders and giving talks on raising pigeons.
This year he was asked to be a judge at the Western Washington State Fair in Puyallup.
"They are even going to pay me," he quipped.