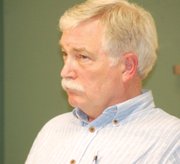 Concerns about how the recent sale of 478 acres of Port of Sunnyside property was handled were brought to the attention of Port of Sunnyside commissioners Monday night.
Sunnyside dairyman Joe Rollinger asked the commissioners last night why the parcels were packaged as one unit. Rollinger asked the port commissioners for clarification regarding the RCWs concerning public property sales.
"I don't believe you were following the rule," he said.
Rollinger was one of the parties seeking to purchase 117 acres of port property located near the Sunnyside Municipal Airport, according to Jay Hester, the port's executive director.
Hester said Rollinger thought the port was offering the parcels individually. However, because the commissioners were concerned about possible financing risks in selling the parcels separately, they elected to offer the entire 478 acres as one unit.
The other parcels are located west and east of South Emerald Road, where the port once sought to create a wetlands area.
The top bid for the 478 acres of land, $5 million, came from Sunnyside Dairy LLC.
Rollinger's bid was only for the property near the airport.
In an effort to show best practices and transparency, Hester said port district staff members will follow up on detailing the state RCW's to explain to Rollinger how port commissioners took the action they did.