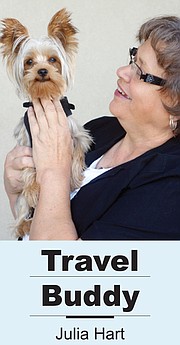 Buddy and I have been wondering about the fuss being made about allowing chicken farming inside the city limits.
Neither of us can really understand why it is an issue. Hens don't crow at the crack of before dawn. Roosters do that and for hens to lay eggs, it is not necessary to have a rooster around.
Hens, when they are laying, sit close to their nests and are beneficial as they occasionally feed on bugs.
I understand the basic need to keeping farming practices outside city limits, but it's not like Buddy and I want to keep a cow in our back yard. We don't have enough room for a cow and, besides, I'm too lazy to get up each morning to milk her.
But keeping a couple of laying hens in a small coop in a corner of the yard doesn't seem like such a big deal. There are a lot of really cute henhouse designs that could be an attractive addition to a lot of Sunnyside yardscapes.
And, it's not like any sensible chicken keeper would allow the hens to run willy-nilly all over the neighborhood. There are too many predators, like the city's stray dogs, willing to chase any loose hens trying to hide in the bushes.
What Buddy and I think is a bigger problem that should be addressed by city council is the yearly infestation of the dirty, disgusting black crows. They are noisy and camp out in every big tree they can find. And, they leave their calling cards on everything in sight…including windshields.
Buddy and I both wonder how these birds can be controlled. How do we get them in a coop, or entice them to move into the country and make them stay there?
The ugly, loud birds make the treetops of Sunnyside their home each fall and winter. They really do leave a mess on everything in sight.
I know that Buddy, if he could, would chase those cawing nuisances right out of the trees, if he was able to climb trees. As it is, all he can do is bark at them while they sit safely on branches above his head making fun of him.
As for having home-grown eggs for breakfast, I get that people are trying to eat healthier. A lot of people agree that keeping a few chickens (which a proposed city ordinance suggested should be no more than four hens) is one way to be on a healthier diet.
Unfortunately, only those people who are opposed to having chickens inside city limits appeared at a recent planning commission hearing. So it's no surprise the planning commission is recommending to the city council that no chickens should be allowed here.
I know that Buddy's voice in the matter doesn't count. However, I also know there are some of you out there who are raising a couple hens in your back yard. Maybe you should be the ones speaking up for city chicken keeping.
Oh, and could you put in a good word about eradicating the crows? Buddy would appreciate that.