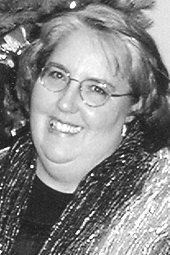 Vickie (Robert) Mesman, 54, of La Conner died peacefully on Monday, Aug. 18, 2014, surrounded by family at Skagit Valley Hospital.
Vickie, the only girl of six children, was born in Yakima to Victor and Martha Robert.
She was raised on the family sheep ranch in Sunnyside, where she was active in 4-H and FFA throughout her youth.
She graduated from Sunnyside High School in 1978. She went on to receive degrees in agricultural education and general agriculture from Washington State University.
While teaching agriculture at Skagit Valley Community College, Vickie met Alan, who along with her two children, Ben and Samantha, brought her the greatest joy in life.
Vickie was a manager for the Skagit Conservation District for a number of years before working for the Washington Association of Conservation Districts.
As a young mother of two, Vickie decided to slow down and switch careers to run the Co-Op Pre-School single handedly for a few years.
At home, she worked on the side doing bookkeeping for the family farm as well as the Skagit County Farm Bureau.
Vickie is known for her kindness and generosity. She shared both while volunteering to serve on the Skagit County Dairy Women Board for which she was the current treasurer and in the past served as president/vice president.
Throughout her children's youth, Vickie also spent time as a 4-H leader and volunteered a lot of her time to Sunshine Dairy and chaperoning for Skagit Dairy Ambassadors.
Vickie enjoyed both playing sports and being a spectator on the sidelines watching her children. She played on a women's soccer league in the 1980s and, along with Alan, played on co-ed volleyball teams. She loved being a soccer mom and was often so enthusiastic that sometimes others would not want to sit right in front of her.
Vickie is survived by her loving husband, Alan; her children, Benjamin (Chelsy) Mesman and Samantha Mesman, all of La Conner; her mother, Martha Robert of Yakima; and her five brothers, Robin Robert of Sunnyside, Michael (Lynda) Robert of Canby, Ore., Jean Robert and David (Liz) Robert, all of Sunnyside and Randy (Jamie) Robert of Yakima.
Vickie was preceded in death by her father, Victor Robert.
The family would like to give special thanks to the nurses and staff in the ICU at Skagit Valley Hospital, and also thank the many friends and extended family for their continued prayers and support.
Visitation hours will be held Friday, Aug. 22, 2014, from 10 a.m. to 8 p.m. at Kern Funeral Home. The service to honor Vickie will be held on Monday, Aug. 25, 2014, at 1 p.m. at Sacred Heart Catholic Church in La Conner.
Funeral arrangements are under the care of Kern Funeral Home of Mount Vernon.