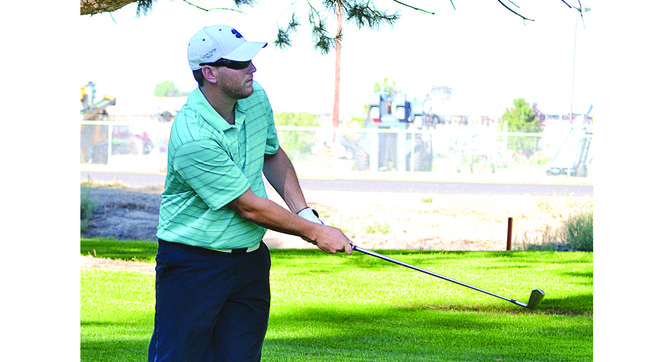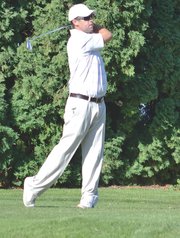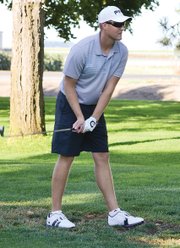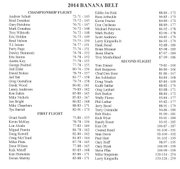 Andrew Schutt of Sunnyside, this past weekend, bested what some might argue was the best field ever assembled for the annual Banana Belt.
The 58th annual, two-day tourney at Black Rock Creek Golf Course drew a field of 71 linksters this year. Nearly half of them – 32 to be exact – were single digit handicappers. And, five of them were scratch golfers.
"I don't know if we've ever had this strong of a field in the Banana Belt," said Black Rock Creek club pro Scott Galbraith. "The level of play this year …wow… we had a lot of good sticks on the course the past two days."
Schutt, in notching top honors, got around the nearly 6,300-yard Sunnyside-area course with a 1-under 143. That left him two strokes clear of the next best finisher, Ellensburg's Brad Donahue (73-72 – 145).
This year's Banana Belt net champion, who like Schutt is a graduate of Sunnyside Christian High School, was Grant Smith. Carrying a handicap of 10, Smith fired rounds of 75-80. That left him with a net score of 135. The next best net totals (actual scores minus handicaps) were 138's, posted by Dewey Steinmetz, Keith Sattler and Jim Schlenker.
Schutt opened the two-day competition by grabbing a one-shot lead over Donahue. He fired an even-par 72 Saturday on front and back nine scores of 34-38. Donahue, like Schutt a scratch golfer, tallied a 73 (36-37).
Three other golfers closed out day-one action two shots off the lead. Posting 2-over 74's were brothers T.J. and Eric Inions of Zillah, as well as Dewey Steinmetz. All three are regulars at Toppenish's Mt. Adams Country Club.
One stroke behind that trio, with a 3-over-par 75 on Saturday, were Brad Nelson of Ellensburg, Perry Page of Yakima and the eventual net titlist…Smith.
All told, 21 golfers shot sub-80 rounds on the opening day.
Come Sunday, the race for the Banana Belt's top crown quickly developed into a two-horse race between Schutt and Donahue.
The Ellensburg resident pulled even with Schutt early on when he parred the second hole, thanks to Schutt absorbing a bogey on the par-3 hole.
Schutt regained the lead – which proved to be for good – when he picked up a tweeter on the short, 326-yard, par-4 fifth.
Donahue's birdie on the dogleg-right, par-4 seventh in most cases would have gotten him back to square. But not this Sunday. Schutt bombed his tee shot on the 377-yard hole, then using a wedge holed out for eagle.
That increased the eventual champion's lead to two strokes.
The two played tit-for-tat over the next five holes, but then Donahue pulled to within a single stroke when he parred No. 13. Schutt bogeyed the straight-away, 513-yard hole.
The two day-two leaders both parred No. 14, but on hole 15 Donahue took a bogey, which increased Schutt's lead to two shots.
Both finished off their rounds by going 1-over down the three-hole stretch. That left Schutt with 1-under 71 on Sunday, and Donahue at even-par 72.
Keeping themselves on the fringes of the hunt on Sunday were Gary Hutchins of the Yakima Elks, who tied for the low round of the day with a 71; as well as Mark Donahue of Yakima and Troy Wilmoth of Mt. Adams, both of whom carded an even-par 72. Those three finished third through fifth, respectively.
Mt. Adams' Erick Holden posted a 73 on Sunday, which gave him a two-day total of 149, sixth best from the field of 71.
Two of the biggest turn-arounds of the tourney came on Sunday when both Phil Luther and Ken Ott shaved 13 strokes off their opening day rounds.
Luther pocketed a nifty, 10-over 82 on Sunday after opening with a 95. Ott stumbled to an even 100 on the first day, but revved up his game on day-two and carded an 87.
Wally Flores, like Luther and Ott members of Black Rock Creek, also charged back hard on Sunday after struggling in his opening round. Flores went from a 93 on Saturday to an 84 the second day.