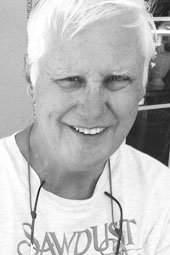 Michael Eugene Tanasse, 69, passed away on Monday, Aug. 18, 2014 in Orange County, Calif., after a long battle with kidney cancer.
Mike was born in Corpus Christi, Texas to Arthur "Bud" Tanasse and Marian Bradley Tanasse. During this time his father was a WWII flight instructor. After living in Jacksonville, Fla. and Cherry Point, N. C. during the war, they relocated to Washington state.
He was raised in Sunnyside, where he was a student leader, altar boy and athlete.
Mike graduated from Whitman College (Sigma Chi Fraternity) in 1967 with a Bachelor of Arts degree in history.
He married Judith Schulte. They had two children, Steven and Sarah. The young family moved to Orange County in 1974, where Mike resided the rest of his life.
A talented businessman, Mike worked in both sales and marketing for various companies.  He operated Tanasse Farms in Grandview and later established Sunnyside Pool and Spa Service, based in Fountain Valley, Calif.
Mike is survived by his son, Steven (Gisele) Tanasse; his daughter, Sarah (Christian) Barnard; his grandchildren, Colette Tanasse and Ian Barnard; his mother, Marian Bradley Tanasse; former wife, Judith Tanasse; sisters, Marianne (Tim) Anderson and Catherine (John Jimerson) Tanasse; and his friend, Kathleen Barr.
He was preceded in death by his father, Arthur Eugene "Bud" Tanasse; and his brother, Alan Bradley Tanasse.
Mike will be remembered for his gregarious sense of humor as well as his incredible gift of gab.
He will be deeply missed by his many friends and family.
A memorial service in Orange County will be held Saturday, Aug. 30, 2013, at 11 a.m. at Hilgenfeld Mortuary, 120 E. Broadway in Anaheim, Calif. A Christian Burial will be held Saturday, Sept. 6, 2014, at 11 a.m. at Lower Valley Memorial Gardens, 7800 Van Belle Road in Sunnyside, with a celebration of life luncheon to follow.
Those wishing to honor his memory may contribute to the American Cancer Society.
Hilgenfeld Mortuary in Orange County is in charge of arrangements.