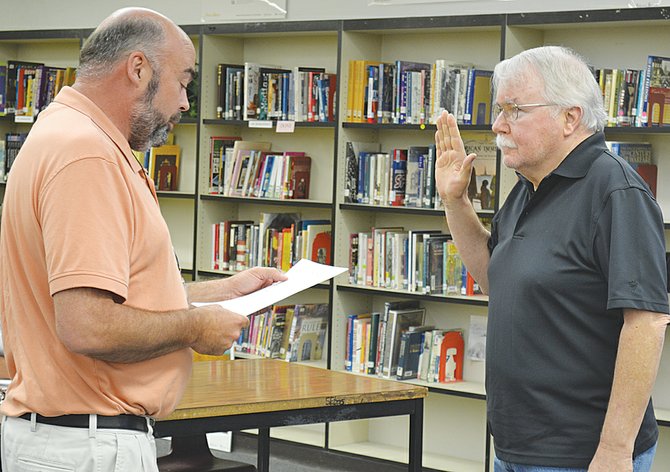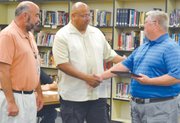 Just in time for school to start this coming Thursday, the Grandview School Board Monday night approved the budget for the 2014-15 school year.
Last night's action greenlighted a $37,979,097 general fund budget covering the bulk of every day educational costs in the district.
The nearly $38 million general fund budget is up from the $35.8 million set aside for last year's expenses.
Grandview schools anticipate receiving $37,651,609 in revenues for 2014-15.
During a budget hearing prior to the board's vote, Assistant Superintendent Brad Shreeve noted the general fund will receive a one-time transfer of $560,000 from the capital projects fund.
Speaking of the capital projects account, Shreeve said during 2014-15 a new portable will be installed to accommodate the district's growing elementary school enrollment. New fencing is also planned.
In addition, Grandview schools are prepared to set aside another $500,000 from the capital projects fund if voters in the district support a $1.6 million levy this coming November.
With voter approval, the district will take the combined $2.1 million in funds and upgrade the Grandview High School sports complex.
The improvements would include completely replacing the track, and installing an artificial turf field for football and soccer. In addition, the upgrades would feature a new stadium lighting system.
Another fund of note approved last night for 2014-15 is the transportation vehicle fund. Shreeve said the district during the next school year will buy two busses with money from that fund.
He said the state is changing how it provides money to school districts to help in transportation costs. Instead of paying the money up front in August at the beginning of the school year, it will allocate the funds in April near the school year's end.
As a result, Shreeve notes it will be important to maintain sufficient beginning fund totals in the transportation vehicle account. That way the district has the money up front to pay for new buses, allowing it to be able to wait until April to actually receive the state proceeds.
Monday night's board meeting was a beginning and ending of sorts.
Last night marked the first-ever meeting for the Grandview School Board's newest member, Dr. Richard Van Kirk. He was sworn in as a District No. 2 director last night and promptly joined the board in approving the school budget.
The session also was the final meeting for board member Alfonso Contreras. After 10 years serving on the Grandview School Board, Contreras stepped down because he and his wife are moving to the Toppenish area.
Contreras represented District No. 3, an area of the Grandview School District extending from Cherry Street to the Mabton-Sunnyside Highway and also south to the Yakima River.