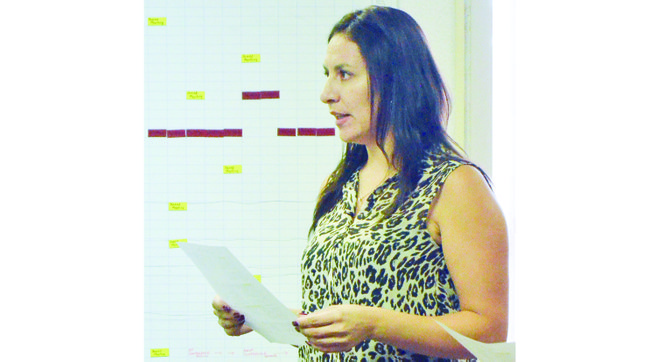 MABTON – The Mabton School Board last night deemed the school improvement plan presented by Mabton Jr./Senior High School Principal Caleb Oten as "ambitious," but he is confident the school can meet its goals.
At last night's school board meeting, Oten said the staff believes students can achieve a 10 percent improvement between the fall and spring benchmark assessments.
Director James Adams asked if the 10 percent mark is attainable "…or is it a dream? It's very ambitious."
"I'm not a dreamer," said the second year principal.
Oten said he believes the goal can be achieved and is a realistic approach to improvement.
Oten said staff will also focus on completing its curriculum guides and develop assessments that are aligned with Common Core Standards.
"The guides are nearly complete," said Oten.
He said developing the assessments is important to ensure "students aren't blindsided" by the Common Core assessments.
Oten said the school will also be working toward the goal of developing student-led parent-teacher conferences.
When asked about the way parent-teacher conferences have been held in recent years, he said they "…have been in name and, partly, in deed." But, he said, there is a goal of developing a process that is more true to the idea of being student led. That means "the teacher says very little…the student takes responsibility."
Oten said it is important for a student to understand his or her progress in school. The student will be expected to explain accomplishments and areas needing improvement to the parents during a student-led conference.
Another area of improvement that the staff at Mabton Jr./Senior High School is working on for the 2014-15 academic year is better partnerships with parents.
"We want to empower parents," said Oten, stating the staff is developing programs that will help accomplish this goal.
A calendar outlining important dates and deadlines will be developed. Oten said staff is willing to meet with parents in an environment that makes parents more comfortable.
"Some parents don't want to come to the school," said Oten.
He said the school improvement plan also outlines plans to continue recognizing student achievement and includes a re-evaluation of the senior project program.
Oten said plans to revamp the senior project program will give students an opportunity to work on projects that involve career exploration.
Also, a peer mentorship program is planned to give students who understand a subject the ability to help others who do not fully grasp the content.
Both, Mabton Jr./Senior High School and Artz-Fox Elementary School are working on the development of a character program, recognizing students who exhibit a specific character trait. The program has yet been developed, but Artz-Fox Elementary School Principal Angie Ozuna said the schools want to recognize students who exhibit kindness, responsibility and other key character traits throughout the academic year.
The staff at the elementary school have also been working toward the goal of helping students meet Common Core standards, said Ozuna.
The school will use a variety of assessment tools, including DIBELS and common formative assessments to determine progress of students throughout the school year, she said.
Ozuna said staff will be working on building literacy and math skills with students, using assessment data to determine where improvements are needed to meet benchmarks.
There will be scheduled reading blocks, she said. Evidence of improvement will be measured and "…goals will be adjusted based on the data."
Partnering with parents will be achieved via monthly events like math and reading nights.
Artz-Fox Elementary School Vice Principal Sue Sartain also spoke to the board about the development of programs that help parents and teachers.
She said Artz-Fox Elementary School wants to start a program called homework diner, which will provide parents an opportunity to learn how to assist students with homework.
During the homework diner events, dinner will be served to ease the burden of time constraints.
The Mabton School Board, after hearing from the administrators, approved the school improvement plans by a 5-0 vote.