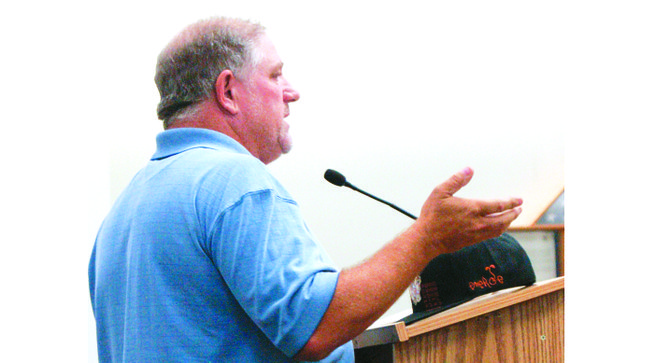 An email reportedly sent by Councilman Jason Raines resulted in a citizen complaint from David Rand at last night's Sunnyside council meeting.
Rand, a Sunnyside contractor who also is attempting to open Sunnyside's first retail recreational marijuana store, claimed Raines had sent an email to the city manager questioning whether or not the city had followed all proper procedures in issuing a building permit for Rand's storefront.
Rand said he felt the request blamed Sunnyside Planning Supervisor Jamey Ayling for failing to notify Rand that there are wetlands on his property.
"I think it's kind of a witch hunt because some people don't like what my property is going to be used for," said Rand.
"I just want to say that Jamey and I had many conversations prior to my permit and prior to me buying that piece of property about what we were going to do. And how we were going to beautify that corner of the land and make our town a little bit better looking on the entryway."
The email sent by Raines actually requested copies of any critical areas or wetland studies on file with the city planner involving Rand's parcel of land.
Rand said his wife found Ayling with a state official at the property last Thursday discussing whether or not the property was a wetland. Rand said the Department of Ecology told him that two acres of the land he bought cannot be developed due to its status as a wetland.
"They want me to just leave it ugly and nasty," he said. "This is the mouth of our town," he said of the gateway entrance into the city along Yakima Valley Highway.
Rand said he originally planned to turn the two acres into a park to beautify the property. He said he cannot even spray weed killer any longer, even on the area he is allowed to develop.
"Nobody will see my building," he said. "I guess that's one good thing. The building will be camouflaged by ugly landscaping."
Rand purchased the 3.17-acre lot from former city councilman Bruce Ricks in early June of this year.