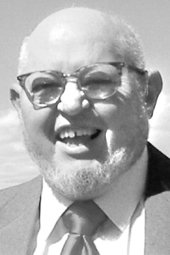 Ernest Wilbur Troemel, 80, a longtime Prosser resident, entered into rest on Friday, Aug. 22, 2014, in Sunnyside.
He was born Jan. 22, 1934 in Outlook, to Fred and Eva (Richardson) Troemel.

He was raised and educated in Sunnyside and graduated from Sunnyside High School with the class of 1952. He then graduated from Yakima Valley College in 1954 and in 1956, graduated from Drake University in Iowa with a Bachelor's degree in education.
He met his future wife, Rebekah Miler in Des Moines, Iowa. They married in 1956.
His first teaching job was in Iowa and after moving to Prosser in 1960, Ernie taught math and history at Prosser Junior High until 1972. He then earned an accounting degree from Trend Business College and owned and operated E&R Tax Service until retiring.
Ernie was very community and civic minded and belonged to many clubs and organizations over the years. He was a member of the Church of God and Eagles Lodge. He served on the Prosser City Council and served as treasurer of the Prosser Assembly of God Church.
Ernie loved gardening, fishing, collecting old books and presidential memorabilia.

Ernie is survived by his four children, Pamila (Miguel) Pineda of Prosser, Peggy Shaw of Mt. Vernon, Bill (Gladys) Troemel of California and Ted (Dianah) Troemel of Illinois; his sister, Lois Johnston of Sunnyside; 13 grandchildren; 16 great-grandchildren; and many nieces, nephews and cousins.
He was preceded in death by his brothers, Richard and Fred Troemel; and one sister, Frances Troemel.
A celebration of life will be held Thursday, Aug. 28, 2014, at 1 p.m. at Life Point Church (formerly Prosser Church of God).
Memorial contributions may be made to the Prosser Eagle's Lodge or charity of the donor's choice.

You may sign the online guestbook and leave a message of condolence for the family at www.prosserfuneralhome.com.
Prosser Funeral Home is in charge of arrangements.
More like this story