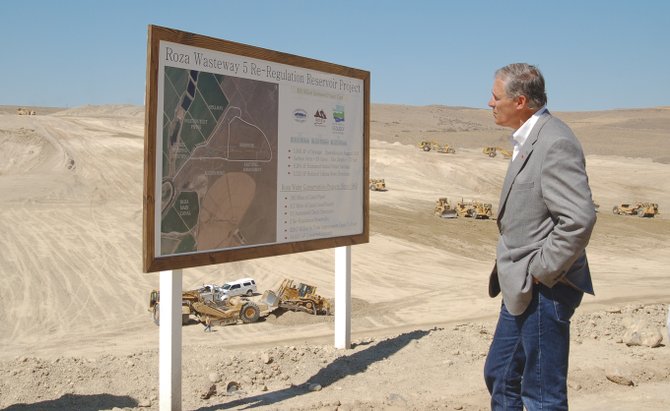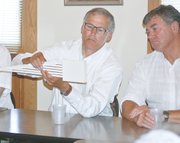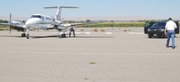 Gov. Jay Inslee's plane touched down at Sunnyside Municipal Airport Tuesday afternoon as part of a statewide tour to tout the effects of climate change.
His central message yesterday: climate change is here and Washington state needs to deal with it.
As exhibit A, Inslee yesterday toured the Roza Irrigation District's re-regulation reservoir about 15 miles from Sunnyside. Scott Revel is Roza's manager, and he called the reservoir a "shock absorber" that will help conserve water, bump up storage and get water to irrigators quickly.
When the reservoir opens in 2016 it will cut the time it takes to get the first drop of water to the end of Roza's 55-mile system from three days to one day, says Revel.
Inslee said the $26 million reservoir – funded through Roza's partnership with state and federal agencies - shows Washington is a "can-do" state.
Inslee's next stop here was a roundtable meeting at Snipes Mountain Brewery and Restaurant with leaders involved with the Yakima River Basin Integrated Water Resource Management Plan.
The plan was developed as a way to deal with climate change that in the future is anticipated to reduce snowpack - the basin's lifeblood – and spike water usage due to warmer summers.
The 30-year plan – which aims to increase water storage and improve fish habitat - has the backing of environmental and ag communities, as well as state and local officials, along with the Yakama Nation.
Inslee praised the partnership of so many varied interests working together for the basin, and told the group that legislators were impressed with the sustained unity the group showed during a visit in Olympia during the last legislative session.
"It's a project of statewide significance," Inslee said. "It demonstrates the optimism for agriculture's growth potential."
"This has to work," Kittitas Valley farmer Urban Eberhart told Inslee at the table.
"We're all in," added Ron Van Gundy, a former manager for Roza who now serves as a consultant for the district.
He estimates it costs $25,000 to $35,000 per acre for farmers to put a crop in the ground…and it is all lost without water.
"Failure is not an option," Van Gundy told Inslee.
Inslee said the task for everyone at the table is to get the message of need to western Washington legislators. The integrated plan is expected to cost billions and will need statewide support, as well as help to push for federal assistance.
The focus, then, is to show the westside it needs the eastside's ag products.
"The ports and trucking companies of western Washington are dependent on a healthy agriculture industry in eastern Washington," said Inslee.
All this progress and partnership is great, Inslee told the group, but more will be required of Washington residents in the future.
The other message of Inslee's mission here yesterday was the need to reduce consumption of carbon fuels.
Notions of carbon taxes or cap and trade policies aren't popular in eastern Washington.
But Inslee says the tide is turning, pointing out recent examples in this state that extreme wildfires and flooding are connected to climate change brought on by consumption of carbon fuels over several decades.
Inslee says there is also a fiscal responsibility to get a handle on carbons.
If the climate change problem is worse than originally thought, he said the state could face a situation where millions and even billions spent on water conservation and storage may not be enough.
At one point Inslee reflected back on yesterday's exhibit A. "We can't solve this with re-regulation reservoirs alone."