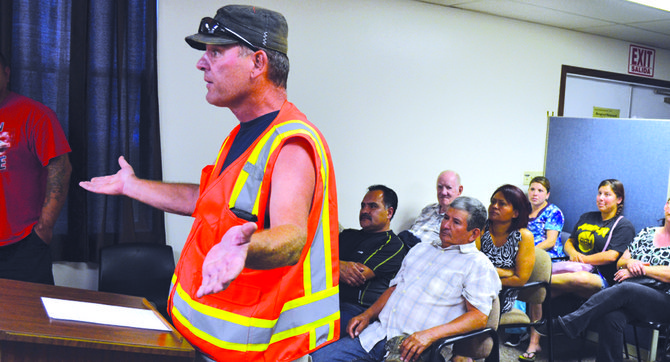 MABTON – One episode of the hit TV comedy Seinfeld focused on the fictional December holiday of Festivus. The holiday featured something called "airing of the grievances."
It was Festivus in Mabton on Tuesday night, as residents aired plenty of grievances.
During a two-hour open public comment period at last night's Mabton City Council meeting, residents aired a laundry list of complaints.
Laura Vasquez complained about a new gas station under construction just outside of town that she fears will pull business from her town.
"If we can stop it, it needs to be stopped," she said.
She, and many others, also complained about a policy that allows city employees to perform chores for private citizens at a cost of $50 per hour. Though the move was established as a way to help residents clean up their yards, Vasquez didn't like the fact that some property owners were using city staff to deliver gravel.
Vanessa Cervantes added that the city risks liability for performing work on private property. Further, she says Mabton is taking away business from companies that citizens could hire to do the work.
Mayor Mario Martinez noted the policy is under review due to recent concerns expressed by the Municipal Research and Services Center.
Marshall Dawson called on council to wait before giving Martinez his requested raise from $500 to $2,000 per month. "Let's get some of the things we need fixed before you give anyone a raise."
Mabton's water – or lack thereof – took center stage for many in line for the diatribe.
Some with two connections to city water complained they are paying more than $400 per month for city utility bills. Others with just a single residential connection say they are paying more than $170 a month for city utilities.
Adding to the frustration is lack of water pressure that is causing brown lawns and a trickle for showers.
Martinez said a new well is going on-line next year that will help the city's water issues. As for another complaint that city staff weren't reading every water meter, the mayor said he would accompany the workers on their next rounds.
Ross Aparicio expressed concern about Mabton's crime rate, especially the spike in thefts. He has had a van and items from his garage stolen.
He called on Mabton to install 24-hour patrols.
"The people out in the street, they know the police schedule," Aparicio said. "It's ridiculous."
Martinez said 24/7 coverage by the city's police department – currently the Yakima County Sheriff's office fills in when Mabton police are off duty – would mean hiring a fourth officer. He said it would be part of the approaching budget discussion for 2015.
Speaking of police, complaints were also raised about three officers monitoring traffic on the first day of school yesterday, leaving the rest of the city uncovered.
Two hours was apparently not enough for the Mabton crowd.
A council discussion at the end of the meeting on Martinez's job performance – they told him to watch his spending – devolved into a shoutdown with the crowd.
At one point the audience even shouted down city attorney Erin Moore after she begged the crowd for no more public comment.
In her efforts to quiet the audience, she repeatedly reminded them the public comment portion of the meeting was already over.
Moore thanked them for their interest in city government, asking them to bring their comments and grievances to the next regular city council meeting on Tuesday, Sept. 9.